The Rutgers University Equine Science Center has partnered with New Jersey Assemblyman Ronald S. Dancer to bring awareness to equestrian safety, announcing the inaugural "New Jersey Equestrian Safety Week" to be held from Sunday, June 5th to Saturday, June 11th, 2022.
New Jersey Equestrian Safety Week brings together equestrian tack shops throughout New Jersey to provide discounts, store credits, and more to any equine enthusiast who trades in their out-of-date, or unsafe, helmet or vest.
Equestrian Safety Resources
Equestrian Safety Items
Helmets:
Need to be replaced every 5 years (Check the label in the helmet if you're unsure how old your helmet is.) or sooner if worn during a fall or dropped.
Helmets should rest ~1inch above your eyebrows and not move if you shake or nod your head.
Chin straps should be adjusted such that one or two fingers fit between your chin and the helmet strap.
Vests:
Many cross-country courses and events require that your wear a vest and it can be useful in other situations as well.
Vests should fit snugly around your torso. Many are adjustable, so be sure to adjust it as your try it on.
Vests should extend to your collarbone on the upper edge.
The lower edge of the vest should reach the bottom of your ribcage in the front and the end of your tailbone in the back.
Remember that air vests should only be worn over a traditional foam vest.
Medical Armbands:
Like vests, a medical armband is required for some types of equestrian events and shows. Even if not required, a medical armband can be useful as it provides necessary and pertinent information to first responders in case of an accident.
Reflective Equipment and Clothings:
Reflective gear such as a retroreflective vest are helpful for you and your horse, if you ride along roadways or other locations with traffic.
Safety Stirrups:
Safety stirrups come in many different styles. All of them are designed to quickly free your foot from the stirrup in the event of a fall and prevent you from being caught in the stirrup.
Safe Horse Farm Operation
2022 List of Participating Tack Shops: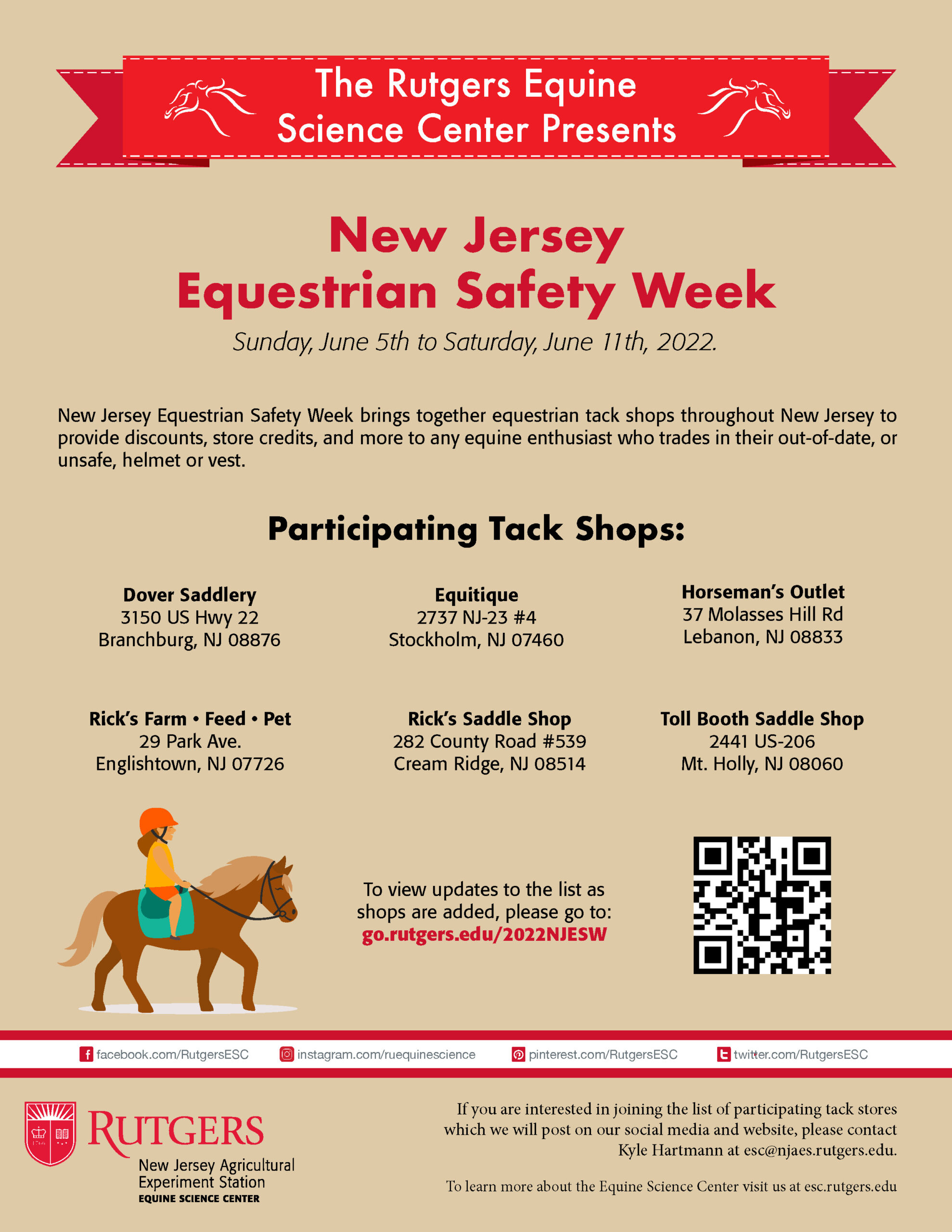 Dover Saddlery
3150 US Hwy 22,
Branchburg, NJ 08876
Equitique
2737 NJ-23 #4
Stockholm, NJ 07460
Horseman's Outlet
37 Molasses Hill Rd.
Lebanon, NJ 08833
Rick's Saddle Shop
282 County Road #539
Cream Ridge, NJ 08514
Rick's Farm • Feed • Pet
29 Park Ave.
Englishtown, NJ 07726
Toll Booth Saddle Shop
2441 US-206
Mt Holly NJ 08060