A huge thank you to everyone who joined us for the second webinar of our "Fall 2020 Equine Webinar Series." Dr. McKeever's presentation on "History of Equine Exercise Physiology and Horses in Biomedical Research" has now been uploaded to our Library, and is available for viewing. A Part of the Fall 2020 Equine Webinar Series, Dr. Kenneth McKeever presented on how the horse has been a key player in basic biomedical research for centuries, and how the research done at Rutgers follows in the footsteps of the great physiologists of the past..
As we continue the "Fall 2020 Equine Webinar Series," Leslie Seraphin, DVM, MPH, will present on biosecurity for the horse owner. Her talk will focus on actions you can take to prevent disease entry to and spread on your farm, including actions to take when attending off farm equine events.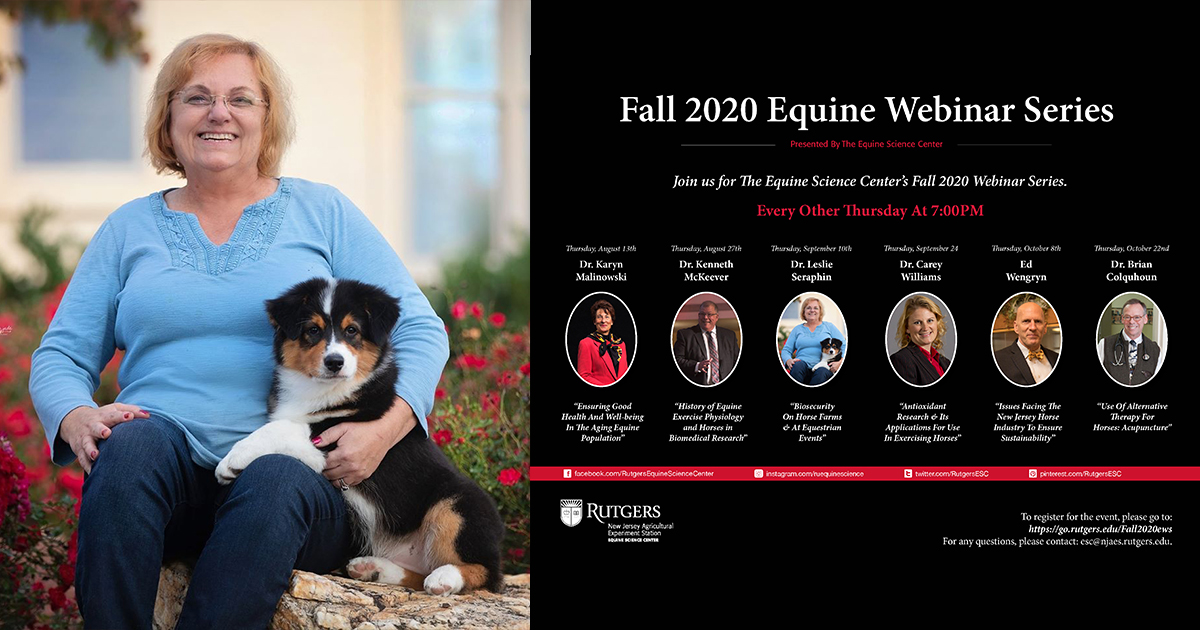 Dr. Seraphin is a District Epidemiology Officer with USDA APHIS Veterinary Services. She received her DVM from Purdue University in 1984 and her MPH from the University of Medicine and Dentistry of NJ, now a part of Rutgers University, in 2004. Dr. Seraphin wrote several biosecurity fact sheets for the USDA, including "Biosecurity Tips for Horse Owners."
We hope that you will join us tomorrow. Click Here to register!