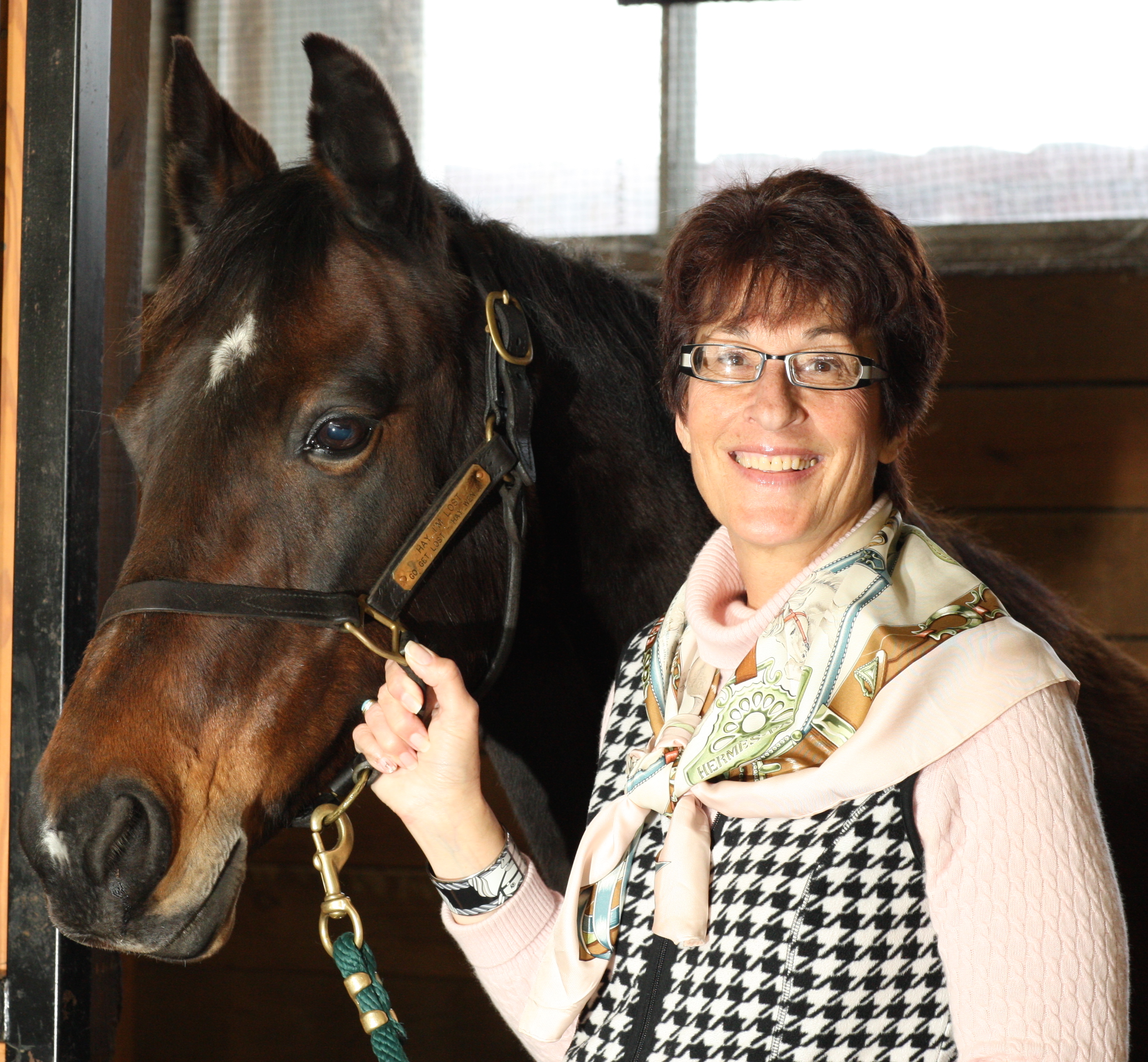 From the Director
Summer 2018
Dear Friends,
Saturday, April 28 turned out to be an absolutely GORGEOUS day! People turned out in droves to visit us at the Red Barn for the Ag Field Day Horse Show and to visit Center staff and students at the Equine Exercise Physiology Lab for Ag Field Day at Rutgers Day. Giving away 1,000 horse sports bags, the Equine Science Center's presence was displayed all over the G. H. Cook Campus on the backs of these future equine enthusiasts. Ag Field Day at Rutgers Day is always a great time to connect with former students, and this year was no different. I was pleasantly surprised by a visit from my former student, Dr. Christopher Puzio. An alum of the Cook College class of 1992, Christopher was accompanied by his husband Peter, and son Noah with his friend Liz.
The Center was VERY busy, in concert with members of the Rutgers University Board for Equine Advancement (RUBEA), conducting two fundraising campaigns. Our feature story, in our Summer Newsletter, provides details about both Rutgers Giving Day and the crowdfunding project. Thanks to our board members who actively took part in both, as well as everyone who donated and participated! Our students and horses thank you!
I presented two webinars on the research conducted here at the Center investigating the effects of equine assisted activities and therapies on the well-being of horses and symptoms of Post-Traumatic Stress Disorder (PTSD) in veterans. They both are archived here – http://bit.ly/EAATWebinarand http://bit.ly/RCE-EAATWebinar.
On May 1 our federal work study student Carolayn Munoz received one of the Chancellor Student Leadership awards at a lovely reception and ceremony. Carolyn was recognized in the student staff excellence category. She has been an exemplary role model for others. Way to go Carolayn!
The Center was also represented at two events since the last newsletter. We attended the ribbon cutting ceremony at the Horse Park of New Jersey on May 10th during Jersey Fresh International to celebrate the new arena footing, and visited Fair Winds Farm to kick off the Month of the Horse on June 8. Our Summer Showcase earlier in the month had an exuberant crowd of over 110 attendees, which included special guests from Start Rite Day Care Center and Middlesex County Freeholder Director Ron Rios! RUBEA co-chairs Amy Butewicz and Warren Zimmerman welcomed our visitors, and Randy was her usual show-off self when performing on the high-speed treadmill.
Elena Rizzo and I had the pleasant experience of speaking with Dr. Amanda Suzicsk for our alumni story which you can find in our Summer Newsletter. It is wonderful knowing that you can make a difference in students' lives and that they always "return home" at some point.
Next on our agenda is the Hambletonian Veterinary Conference. This has become an annual event for the Center as we share our knowledge with veterinarians from around the country. It's nice to also be able to witness the finest in harness racing at the Meadowlands Racetrack on Friday night and Saturday on Hambo Day. We will be at Freehold Raceway on September 15 for the Open Space Pace, and be sure not to miss our annual Evening of Science and Celebration on November 8. Our featured speaker will be Dr. Burt Staniar from Penn State who will address the importance of chewing and forage in a horse's diet! Keep an eye on our events page for all of our upcoming events!
All the Best,
karyn
Karyn Malinowski, Ph.D.
Director, Equine Science Center