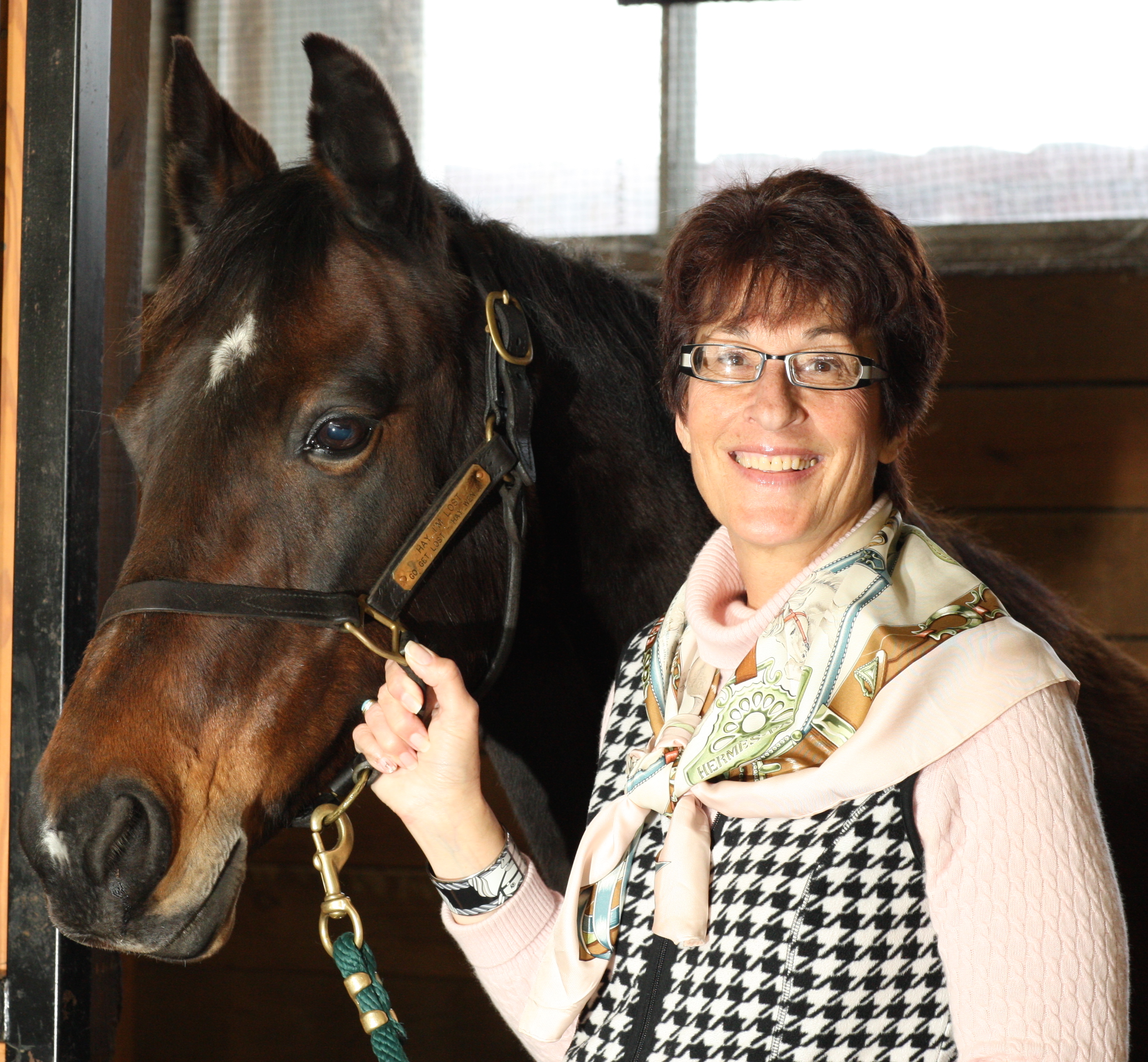 From the Director
Spring 2018
Dear Friends,
In all of my years at Rutgers University, I don't ever remember the university closing as much as it did this winter due to snow. While it was nice to have a couple
of days at home, cleanup after these Northeasters was a major challenge to us all. Hopefully the worst is over and we can get back to participating in our favorite equestrian activities with our equine friends.
Thanks to all of you who joined us for Rutgers Giving Day on March 21. Due to weather, Giving Day was extended for 24 hours. Being proactive on social media, Kyle Hartmann and Center students & staff were busy for almost 48 hours straight! Elena Rizzo, SEBS 2017 alum, won two social media challenges: the #ScarletSwag and #FromYourDeskChallenge for an additional $1,000 for the Equine Science Center. Take a look at any of our social media channels for some of these great photos!
I also wanted to share that the results from the Effect of Equine Assisted Activities & Therapies on Veterans with Post-Traumatic Stress Disorder study will be published in the May 2018 issue of the Journal of Equine Veterinary Science, and is currently live electronically here: http://bit.ly/EAT-Study. Thanks to all of the folks and horses at Special People United to Ride (SPUR) and veterans from Lakewood Veterans Affairs who made the trial possible.
We had two busy weekends in February. On February 11th we helped Dr. Williams and Rutgers Cooperative Extension host the annual Horse Management Seminar. The theme of this year's conference was "Gastrointestinal Health." All of the speakers were outstanding, including Dr. Burt Staniar from Penn State who wowed us with his blender "smoothie" demo that showed the importance of fiber in the horse's diet. He was so popular that he will make a return appearance as our keynote speaker at the 2018 Evening of Science & Celebration in the fall.
On February 24, Rutgers hosted the American Society of Animal Sciences Northeast Student Affiliates (NESA) competition. I truly enjoyed serving as a judge for the student presentations. Forty-two teams from eight universities throughout the Northeast competed. Because Rutgers hosted the event, Rutgers students could not participate, but instead they showed off their leadership skills in organizing and executing the event under the guidance of Drs. Williams and Jesse. Another phenomenal addition to the team, Ph.D. student Jennifer Weinert, was acting as the undergraduate student coordinator.
The deadline for applications for the Doris C. Murphy Endowed Scholarship is quickly approaching! Female students, majoring in Animal Science with a concentration in Equine Science, who are New Jersey residents, and have a financial need are encouraged to apply. Applications are due on May 1. More information can be found on our website.
I look forward to seeing many of you on Ag Field Day at Rutgers Day on Saturday, April 28. Stop by and see us at the Red Barn on College Farm Road between 10:00 AM and 4:00 PM for a tour of the lab, Treadmill Demos at 1:00PM or 2:00 PM (just be sure to get there early), and get some give-a-ways from our Equine Science 4 Kids program. See you there!
All the Best, 
karyn
Karyn Malinowski, Ph.D.
Director, Equine Science Center