NEW BRUNSWICK, NJ – The Equine Science Center's fundraising initiative during New Jersey's "Month of the Horse," which is celebrated in June each year, will this year focus on raising funds for the Ronald S. Dancer Memorial Scholarship.
Launched at the 2022 "Evening of Science & Celebration," the scholarship was named after former New Jersey Assemblyman Ronald Dancer, who passed away earlier that year. Assemblyman Dancer served as the assemblyperson from New Jersey's 12th Legislative District, as the Deputy Republican Leader in the New Jersey Assembly, and in the New Jersey General Assembly since 2002. He was a former horseman, trainer, driver, and the son of the late Hall of Fame harness horse racing driver Stanley Dancer. Assemblyman Dancer professionally raced and trained harness horses from 1968 through 1998.
The scholarship will be given to an undergraduate student majoring in Animal Sciences with an equine emphasis, who has dedicated their time through service and leadership, just as former Assemblyman Dancer did throughout his entire career.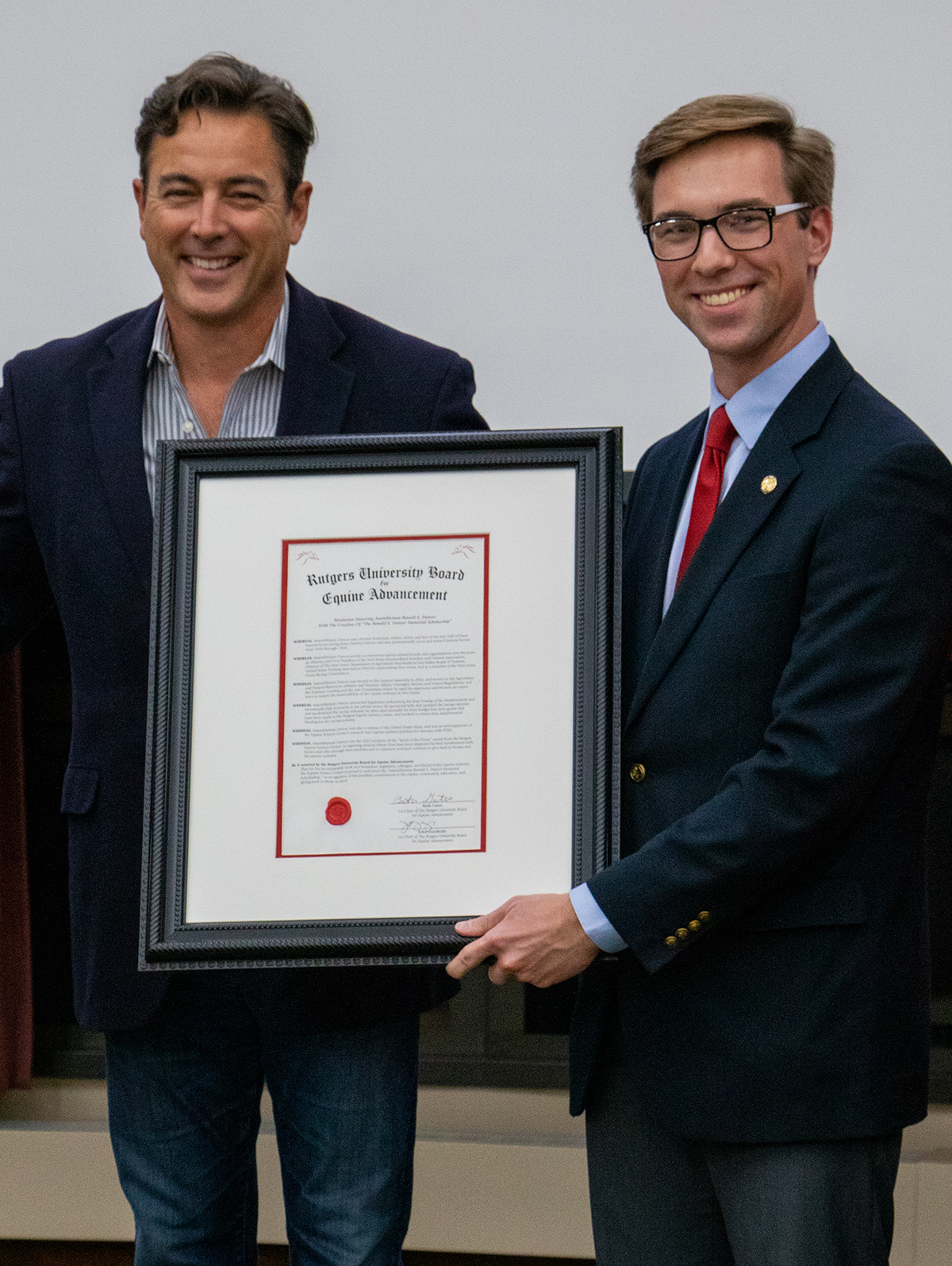 Rutgers University Board for Equine Advancement Co-Chair John Goedecke (left) presents a proclamation to a representative from Assemblyman Dancer's office, Jeremy Posluszny (right), announcing the creation of the "Ronald S. Dancer Memorial Scholarship" during the 2022 "Evening of Science & Celebration."
Foundation Equine Wellness and Performance (a mobile veterinary practice based out of Bordentown, New Jersey) has decided to participate in the Equine Science Center's crowdfunding initiative this year, and have issued a challenge match to anyone willing to donate. For every dollar that the Equine Science Center raises, Foundation Equine will match dollar for dollar up to $1,000.
"We are so happy to take part in the Equine Science Center's crowdfunding campaign," said Dr. Daniel P. Keenan, Owner of Foundation Equine Wellness and Performance. "Knowing the importance of supporting the next generation of equine scientists and veterinarians, we knew that we just had to contribute to this scholarship; especially considering it is honoring former assemblyman Ronald S. Dancer, who was such an important and meaningful figure to the equine community."
To help with this challenge-match visit the Equine Science Center's crowdfunding webpage at: https://go.rutgers.edu/2023RSDMS
For additional information, contact Kyle Hartmann at kylehart@njaes.rutgers.edu or 848-932-9419.
---
About The Equine Science Society
The Equine Science Society (ESS) developed from an interest in sharing horse nutrition research which led to the first symposium held in 1968 at the University of Kentucky. ESS was officially formed in 1970 under the name Equine Nutrition and Physiology Society. In 1975, the society drafted its first by-laws, and in 2003, the society changed its name to ESS to more accurately reflect the diverse equine-related disciplines that were encompassed by the society. Since then, ESS has been a cornerstone for equine professionals to connect and share their research, ideas, and expertise on a wide range of equine-related topics, including biosciences, exercise science, genetics, nutrition, reproductive physiology, production and management, and teaching and extension.
The objectives of ESS are to: promote quality research in the areas of equine science; establish effective communication among researchers, teachers, extension, and production personnel regarding equine science; conduct periodic symposia; and cooperate with other organizations having similar or related interests.
Over the years, ESS has established itself as one of the preeminent, internationally-recognized scientific equine organizations, advocating for and advancing the care of equines through extensive contributions in the areas of equine research, teaching, and extension. The future of ESS continues to shine bright with a strong commitment to professional development, student involvement, sharing of research-based information, membership communication, and collaboration opportunities, and will continue to evolve to address the diverse needs of the equine industry.