New Brunswick, N.J. –
The Rutgers Equine Science Center announced the "Ronald S. Dancer Memorial Scholarship during its 2022 "Evening of Science & Celebration" on Thursday, November 3 in New Brunswick, NJ. The scholarship will be named after former New Jersey Assemblyman Ronald Dancer, who passed away earlier this year.
Assemblyman Dancer served as the assemblyperson from New Jersey's 12th Legislative District, as the Deputy Republican Leader in the New Jersey Assembly, and in the New Jersey General Assembly since 2002.  He was a former horseman, trainer, driver, and the son of the late Hall of Fame harness horse racing driver Stanley Dancer.  Assemblyman Dancer professionally raced and trained harness horses from 1968 through 1998.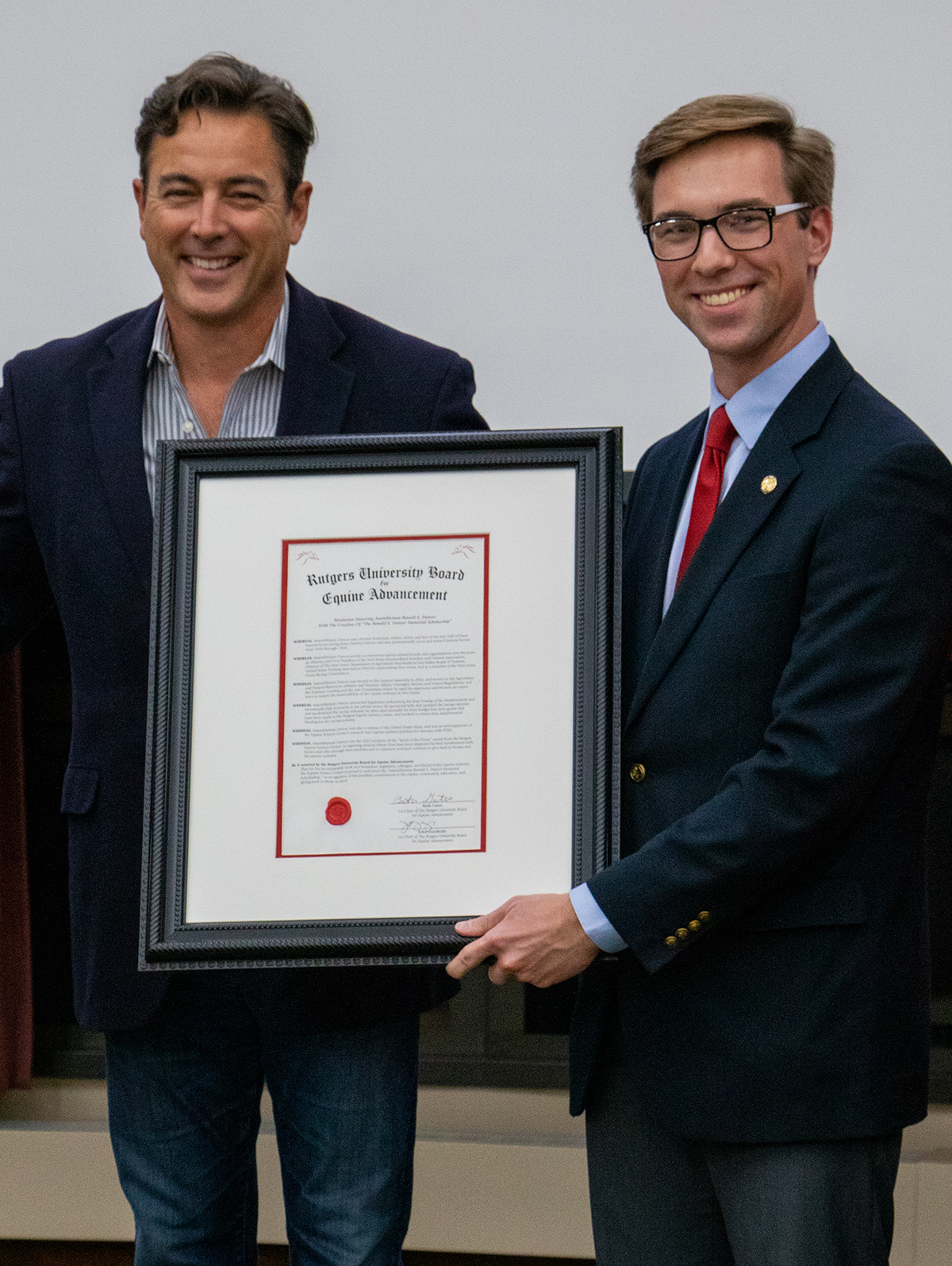 Rutgers University Board for Equine Advancement Co-Chair John Goedecke (left) presents a proclamation to a representative from Assemblyman Dancer's office, Jeremy Posluszny (right), announcing the creation of the "Ronald S. Dancer Memorial Scholarship."
Assemblyman Dancer served on numerous equine related boards and organizations over the years including: Director and Vice President of the New Jersey Standardbred Breeder's and Owner's Association, Director of The New Jersey Department of Agriculture Standardbred Sire Stakes Board of Trustees, United States Trotting Association Director representing New Jersey, and as a former New Jersey Horse Racing Commissioner.
He worked to ensure the sustainability of the equine industry in New Jersey having sponsored the legislation authorizing the State leasing of Meadowlands and Monmouth Park Racetracks to the private sector, and advocating for the State budget line-item grants that have been made to the Rutgers Equine Science Center over the years. Assemblyman Dancer was also a veteran of the United States Army, and was an avid supporter of the Equine Science Center's research into equine assisted activities for veterans with PTSD.
In 2021, he was awarded the "Spirit of the Horse" award, an award recognizing persons whose lives have been impacted by their involvement with horses and who continue to give back to horses and the equine industry.
"For his incomparable work as a horseman, legislator, colleague, and friend of the equine industry," said Dr. Karyn Malinowski, Founding Director of the Rutgers Equine Science Center,  "We are proud to announce the 'Assemblyman Ronald S. Dancer Memorial Scholarship,' in recognition of his steadfast commitment to the equine community, education, and giving back to those in need."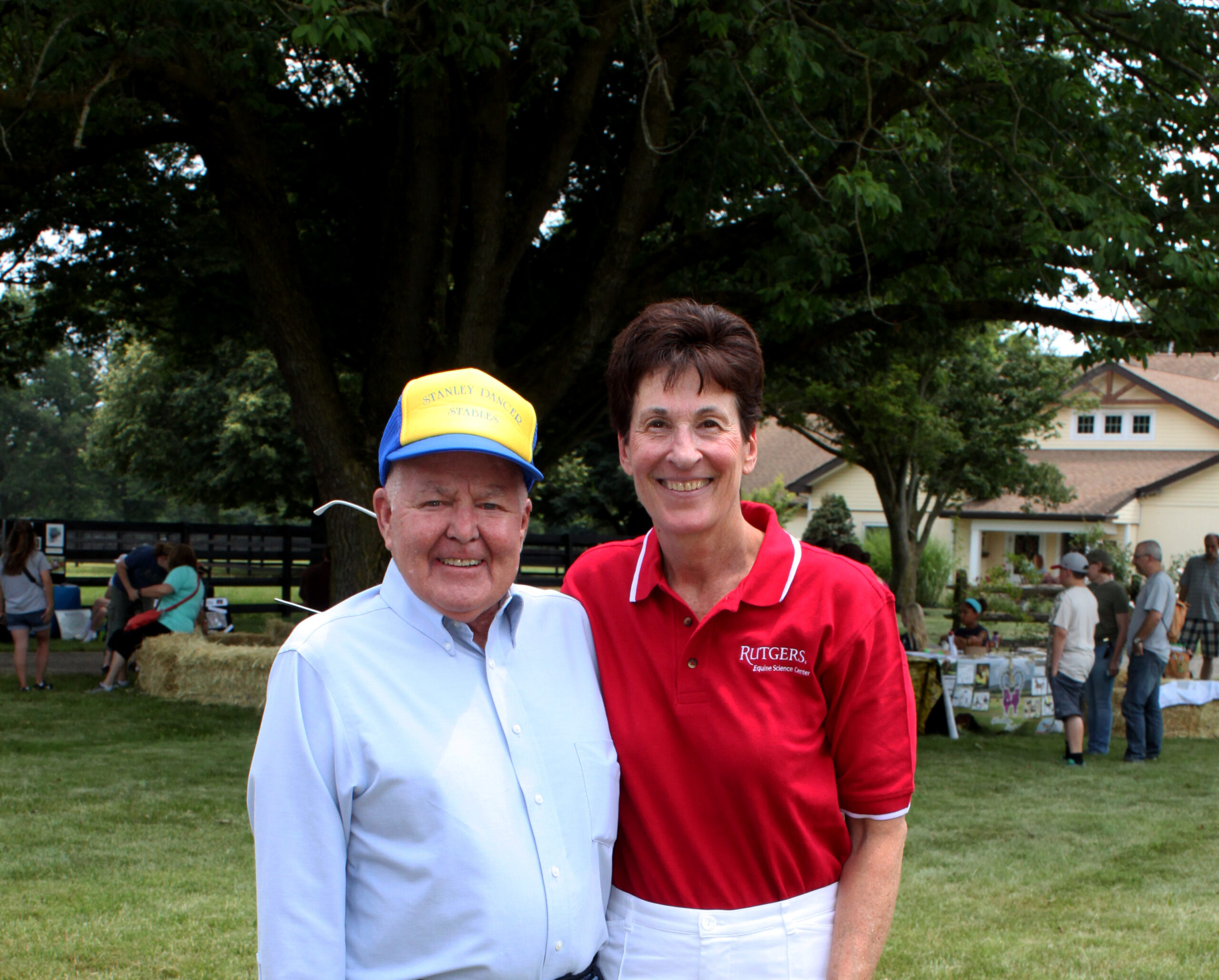 Former Assemblyman Ronald Dancer poses with Rutgers Equine Science Center Founding Director, Dr. Karyn Malinowski, at the "2016 Fair Winds Farm Open House."
The scholarship will be given to an undergraduate student majoring in Animal Sciences with an equine emphasis, who has dedicated their time through service and leadership, just as former Assemblyman Dancer did throughout his entire career.
Further information about the establishment of the memorial scholarship will be provided in the coming weeks on the Equine Science Center's website.