NEW BRUNSWICK, NJ – The Rutgers Equine Science Center will host its 2023 "Evening of Science & Celebration" on Thursday, November 9th, from 6:00 – 9:00 pm.
The Evening of Science and Celebration is an opportunity to unite equine professionals, horse owners, farm owners and barn managers, educators and students, 4-H members, and all equine enthusiasts for the purpose of learning about current projects and ongoing research initiatives being conducted at the Equine Science Center. The Center aims to address horse industry issues and challenges through sound science and research.
For our keynote, Dr. Jessica Leatherwood from Tarleton State University will join the Center to present "Welfare over Triumphs: Protecting the Juvenile Performance Horse." Her talk will focus on her years of research into the health and safety of the young performance horse, irrespective of breed or discipline. This will cover some of the most up-to-date guidelines and recommendations for the upkeep and management of young growing performance horses.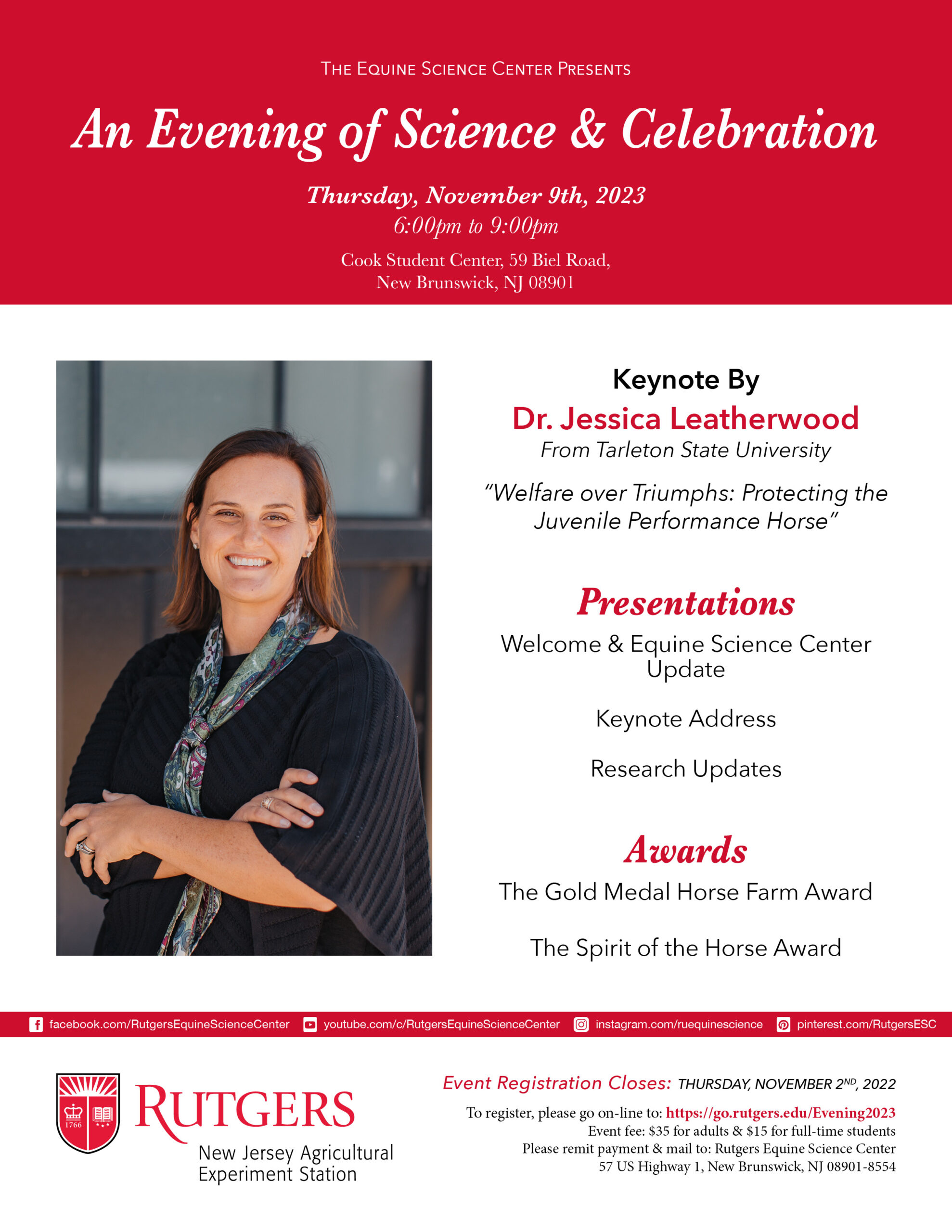 Dr. Leatherwood joined Tarleton State University earlier this year as a faculty member in the Department of Animal Sciences, serving as an Associate Professor and Graduate Coordinator. She received her Bachelor's, Master's, and Ph.D. from Texas A&M University in Animal Sciences; with her graduate programming focusing on equine nutrition and physiology.
During her time at Texas A&M, Dr. Leatherwood co-developed an international horsemanship program providing opportunities for high-impact learning experiences and obtained funding for students to participate in international experiences by conducting four-day horsemanship clinics in Europe, Oceania, and South America. She hopes to develop a similar program for students at Tarleton State University.
Dr. Karyn Malinowski, Founding Director of the Equine Science Center, will give her yearly update on the state of the Center, and give an overview of the accomplishments that have occurred over the last year.
Research updates will be provided by Dr. Ellen Rankins, who graduated this summer from the Rutgers Endocrinology and Animal Biosciences Program, who will present some of the results from her research into "Co-regulation Between Horse and Human in Equine Assisted Activities (EAA) and its Effects on Symptoms of Post-traumatic Stress Disorder (PTSD) in Veterans". Dr. Kenneth H. McKeever; Associate Director of Research, Rutgers Equine Science Center, and Professor in the Department of Animal Sciences; will discuss his upcoming research investigating three drugs and medications currently being used in the horse industry that may affect performance. Dr. Daniel Gimenez, Professor in the Department of Environmental Sciences, will present on his research into "Effects of Horse Manure-Sourced Biochar on Soil Nutrients, Carbon Sequestration and Hydraulic Properties of Agricultural Soils".
The evening will also include the presentations of the "Spirit of the Horse" award, and the "Gold Medal Horse Farm" award.
Mr. Taylor Palmer, Jr., owner and operator of Boxwood Farms in Englishtown New Jersey, will be awarded the 2024 "Spirit of the Horse" award. The Spirit of the Horse award recognizes individuals whose lives have been profoundly changed because of their involvement with horses and who have acknowledged the impact by giving back to the horse industry.
Over the span of decades, Mr. Palmer Jr. focused on the fine details of harness racehorse breeding which embraced quality over quantity; increasing awareness of the horse industry in New Jersey, including the importance of preserved farmland and open space; and served as the founding Chair of the Rutgers Equine Advisory Committee (now known as the Rutgers University Board for Equine Advancement (RUBEA)).
"Taylor Palmer Jr. lives and breathes New Jersey Agriculture, devoting his and his family's entire life to breeding the best Standardbred racehorses possible", said Equine Science Center Director, Dr. Karyn Malinowski. "Mr. P. has served New Jersey agriculture for decades with his involvement in the New Jersey Board of Agriculture, his commitment for years to supporting the Standardbred Breeders and Owners Association of New Jersey (SBOANJ) as treasurer, and as a proponent for the preservation of farmland in the Garden State. I am personally grateful of Taylor's commitment to the Rutgers University Equine Science Center and its programs."
This year the Center will also highlight the recipients of the Doris C. Murphy Endowed Scholarship in Equine Science, and the Ronald S. Dancer Memorial Scholarship, who will be honored at the event with scholarship presentations.
The 2023 winner of the Gold Medal Horse Farm award will be announced at the event.
The event requires registration that can be made online at: https://go.rutgers.edu/Evening2023.
For additional information, please contact the Equine Science Center at 848-932-9419 or
Kyle Hartmann at kylehart@njaes.rutgers.edu.