New Brunswick, N.J. – The 2021 Governor's Award for Horseperson of the Year was presented to Dr. Carey Williams, who has served Rutgers University as the Equine Extension Specialist since 2003. Williams accepted the award at the 65th Annual New Jersey Breeders Awards Celebration at the Horse Park of New Jersey on June 1, 2022.
Dr. Williams' work has focused in the areas of equine nutrition and exercise physiology. She is a leader in the field of antioxidant supplementation and oxidative stress in horses, and her antioxidant work has been recognized nationally and internationally in the nutrition and veterinary fields.
"Dr. Williams has dedicated her career to advancing the New Jersey equine industry," New Jersey Department of Agriculture Secretary Douglas Fisher said. "She is very deserving of this honor for the knowledge, enthusiasm, and care she has provided during her years of service."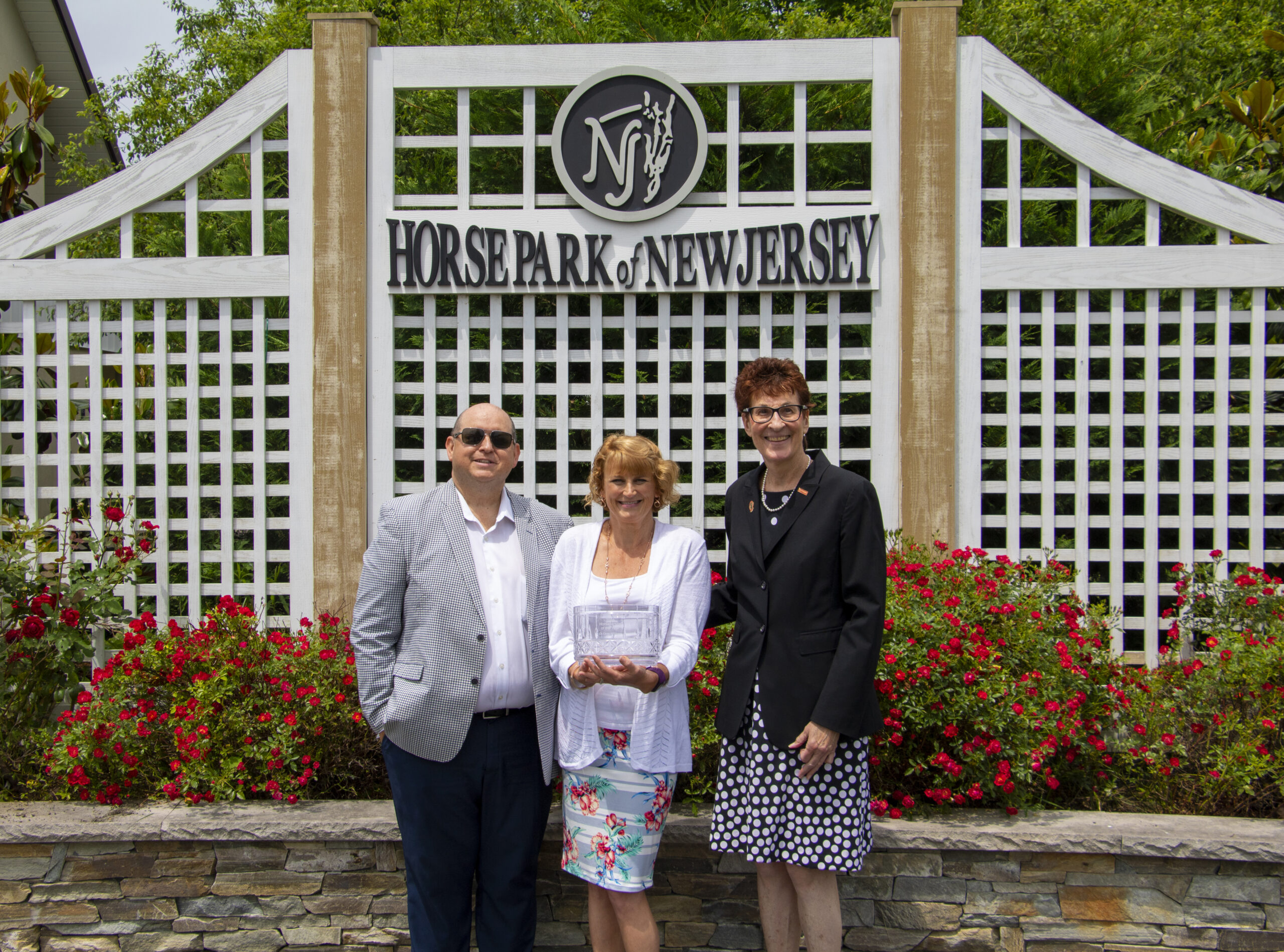 Dr. Carey Williams received the 2021 Governor's Award for Horseperson of the Year as a part of the 2022 New Jersey Awards Presentation. Hosted at the Horse Park of New Jersey, and serving as the official opening of New Jersey's "Month of the Horse," the event took place on Wednesday, June 1, 2022.
(Pictured above from left to right: Joe Atchison III, New Jersey Assistant Secretary of Agriculture, and Director of the Division of Marketing and Development; Dr. Carey Williams, Rutgers Equine Science Center Associate Director of Outreach, Extension Specialist, and Department of Animal Sciences Professor; and Dr. Karyn Malinowski, Director of the Rutgers Equine Science Center.)
More recently, Dr. Williams has expanded her research into the area of forages, pastures, and helping horse farm owners create an environmentally impactful farm. She was the team leader for the multi-disciplinary project that created a state-of-the-art equine Best Management Practice (BMP) showcase farm at Rutgers University. At the Equine Science Center's Ryders Lane facility, the "Ryders Lane Environmental Best Management Practices Demonstration Horse Farm" has become the host site for many research studies and outreach programs.
Dr. Williams' expertise in equine nutrition has resulted in her being a sought-after equine nutrition speaker, becoming a leader in disseminating research-based equine nutrition information to youth, horse owners, and industry professionals focused on equine nutrition, pasture management, and horse management.
Her Extension programs have focused on three main areas: improving equine nutrition, pasture management, and horse husbandry. "Dr. William's extension work with programs such as the 'Horse Management Seminar' and the equine section of the 'New Jersey Junior Breeder Livestock Symposium' have allowed equine enthusiasts of all levels to learn about cutting-edge equine research," said Dr. Karyn Malinowski, Director of the Equine Science Center. "From those who join us at Rutgers University, to international audiences via our virtual gatherings, the research presentations provide attendees with takeaways that they can use in their everyday life."
Dr. Williams is also active within the equine nutrition industry as a member of various scientific societies. She is a member of the board of directors for the Equine Science Society, promoted as "one of the preeminent, internationally-recognized scientific equine organizations, advocating for and advancing the care of equines through extensive contributions in the areas of equine research, teaching, and extension."
Due to her work in the area of equine nutrition, she was recently appointed to the Coordinating Committee for the National Research Support Project (NRSP-9) of the National Animal Nutrition Program. This group "serves as a forum to identify high-priority animal nutrition issues and provides an integrated and systemic approach to sharing, collecting, assembling, synthesizing, and disseminating science-based information, educational tools, and enabling technologies on animal nutrition that facilitate high-priority research among agricultural species."
In her spare time, Dr. Williams is also involved with several riding and showing organizations including the Eastern States Dressage and Combined Training Association, and the Horse Park of New Jersey where she has been engaged as a key volunteer to help with the setup and organization at various shows.