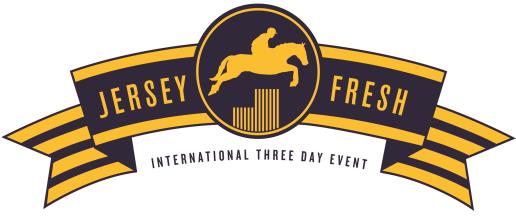 The Jersey Fresh International Three-Day Event Presented by B.W. Furlong & Associates
Fédération Equestre Internationale (FEI) level competition to take place May 6th – May 10th at the Horse Park of New Jersey
Allentown, NJ, – Now in its 13th year, JFI has become one of the most important international three-day events on the competition calendar. Having helped determine both United States and Canadian Olympic and World Equestrian Games Teams, this year JFI will be a qualifying selection trials for the United States' Pan Am Games Eventing Team that will compete in Toronto, Canada, this coming July.
Eventing is best described as an "equestrian triathlon" and is considered the ultimate test of both equine and human athlete. Over the course of several days, three distinct disciplines are on display in each of the Dressage, Cross-Country, and Show Jumping phases of the competition, where horse and rider combinations must work completely in sync at the highest and most demanding levels of the sport.
Each year, JFI takes place at the Horse Park of New Jersey, a premier equestrian venue located amidst some of New Jersey's most beautiful countryside. JFI draws more than 100 competitors from across this country and around the world, many who are international medalists and represent Eventing's and equestrian sports' topmost echelons. Witnessing – up close – these talented and tenacious riders and their beautiful and bold mounts take on the delicacy of the Dressage test, the breathlessness of the Cross-Country course, and the intricacy of a Show Jumping round is a rare opportunity for anyone – equine-affiliated or not.
But that's not all there is to JFI. In addition to experiencing world-class competition, a trade fair, tailgating, and numerous special events and exhibitions offer something to appeal to every interest or member of the family. And this year, we are excited to feature hugely popular Shetland Pony Races as a highlight of JFI's Sunday, May 10th, Mother's Day festivities.
For more information and ticketing options, visit http://www.jfi3d.com/.
Earlier this year, The Jersey Fresh International Organizing Committee announced that B.W. Furlong & Associates Equine Veterinarians, P.A., will be the Presenting Sponsor of JFI 2015's FEIlevel competition, encompassing CCI Three- and Two-Star divisions, and CIC Three- and TwoStar divisions. We look forward to our partnership with B.W. Furlong & Associates, whose veterinarians have provided more than 35 years of world-class service to its clients and over 20 years of veterinary services at World Championships, Pan-Am and Olympic Games, across multiple disciplines. For more information, visit http://www.bwfurlong.com/.
Lisa Mackintosh
Press Officer, Jersey Fresh International Three-Day Event
ljmackintosh@earthlink.net / (201) 838-5164