New Brunswick, N.J. – The Rutgers Equine Science Center will host its 2018 "Evening of Science & Celebration" on Thursday, November 8 from 6:00 – 9:00 pm at the Cook Student Center in New Brunswick, NJ. The event is being sponsored by Mid-Atlantic Equine Medical Center.
The Evening of Science and Celebration is an opportunity to unite equine professionals, horse owners, farm owners and barn managers, educators and students, 4-H members, and all equine enthusiasts for the purpose of learning about current projects and ongoing research initiatives being conducted at the Equine Science Center. The Center aims to address horse industry issues and challenges through sound-science and research.
This year, Burt Staniar, Ph.D. will deliver the keynote presentation titled, "How Fiber Behaves in the Equine Gut: A Visual Tour". Dr. Staniar is an Associate Professor of Equine Science in the Animal Science Department at Pennsylvania State University. His research focuses on equine nutrition, pasture research, and gastrointestinal health.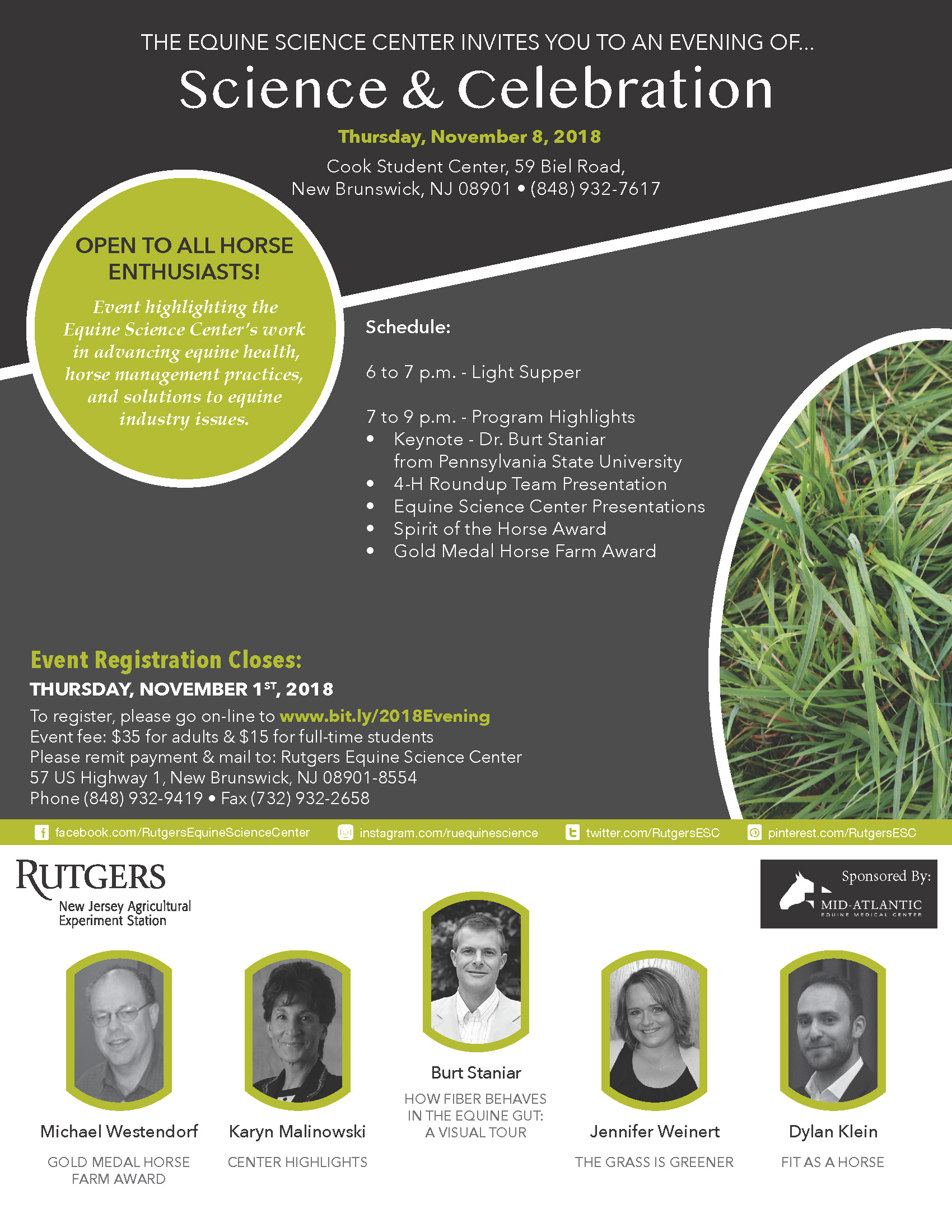 An "Evening of Science & Celebration" will begin promptly with dinner at 6:00 pm. After dinner, Brittany Smith a New Jersey 4-H Roundup member, and Rutgers SEBS student, will present her public speaking presentation, "The Cold Never Bothered Me Anyway" on international horse racing in Switzerland on ice!
Additional presentations scheduled will include:
Highlights of Center Activity
"The Grass Is Greener" Pasture Research Update
"Fit As A Horse" Equine Muscle Physiology Research Update
Kennis "Buttons" Fairfax, a renowned horseshow judge and clinician from Westfield, NJ will receive the 2019 "Spirit of the Horse Award" for his lifelong commitment to advancing the proper care and management of horses, and for his contributions to youth education. "Buttons' lifelong passion has been horses and their relationship with people," says Center director Karyn Malinowski. "Being able to share his knowledge of horses with others is what he finds most rewarding. His goal of opening the equine world to inner-city children provides them with a unique experience that they might not have previously thought possible."
The Center will present its annual Gold Medal Horse Farm award to John Crater & Mortonhouse Farm in Long Valley, NJ. The award, part of the New Jersey Equine Environmental Stewardship Program, gives recognition to outstanding equine farms for their dedication to environmental sustainability and management. It also underscores the efforts of the New Jersey equine industry to maintain the beauty of the Garden State. The program is a collaborative initiative by the New Jersey Agricultural Experiment Station at Rutgers University, the Rutgers Equine Science Center, and the New Jersey Department of Agriculture.
The event requires registration that can be made online at: www.bit.ly/2018Evening. The fee for the event, which includes dinner, is $35 for adults and $15 for full-time students.
For additional information, please contact the Equine Science Center at 848-932-9419 or
Kyle Hartmann at kylehart@njaes.rutgers.edu.