NEW BRUNSWICK, NJ – Ms. Ellen Rankins, Ph.D. Candidate in the Endocrinology and Animal Biosciences Graduate Program, under the Department of Animal Sciences at Rutgers University, will defend her dissertation on Wednesday, July 5, 2023. Ms. Rankins will present her doctoral thesis, "The Human-Horse Interaction In The Context Of Equine Assisted Activities" at 12:00pm at the New Jersey Institute for Food, Nutrition, and Health (IFNH).
Ms. Rankins' defense is open to the public, at no charge, and will be followed by a short reception with light refreshments. The Equine Science Center will also host a Zoom Webinar to occur simultaneously, where attendees can watch her defense as well as ask questions if time permits.
Ms. Rankins' doctoral defense will focus on her research into using Equine Assisted Activities (EAA) with Veterans with Post-Traumatic Stress Disorder (PTSD), and how these activities affect both the horse and the human who partake in the treatment.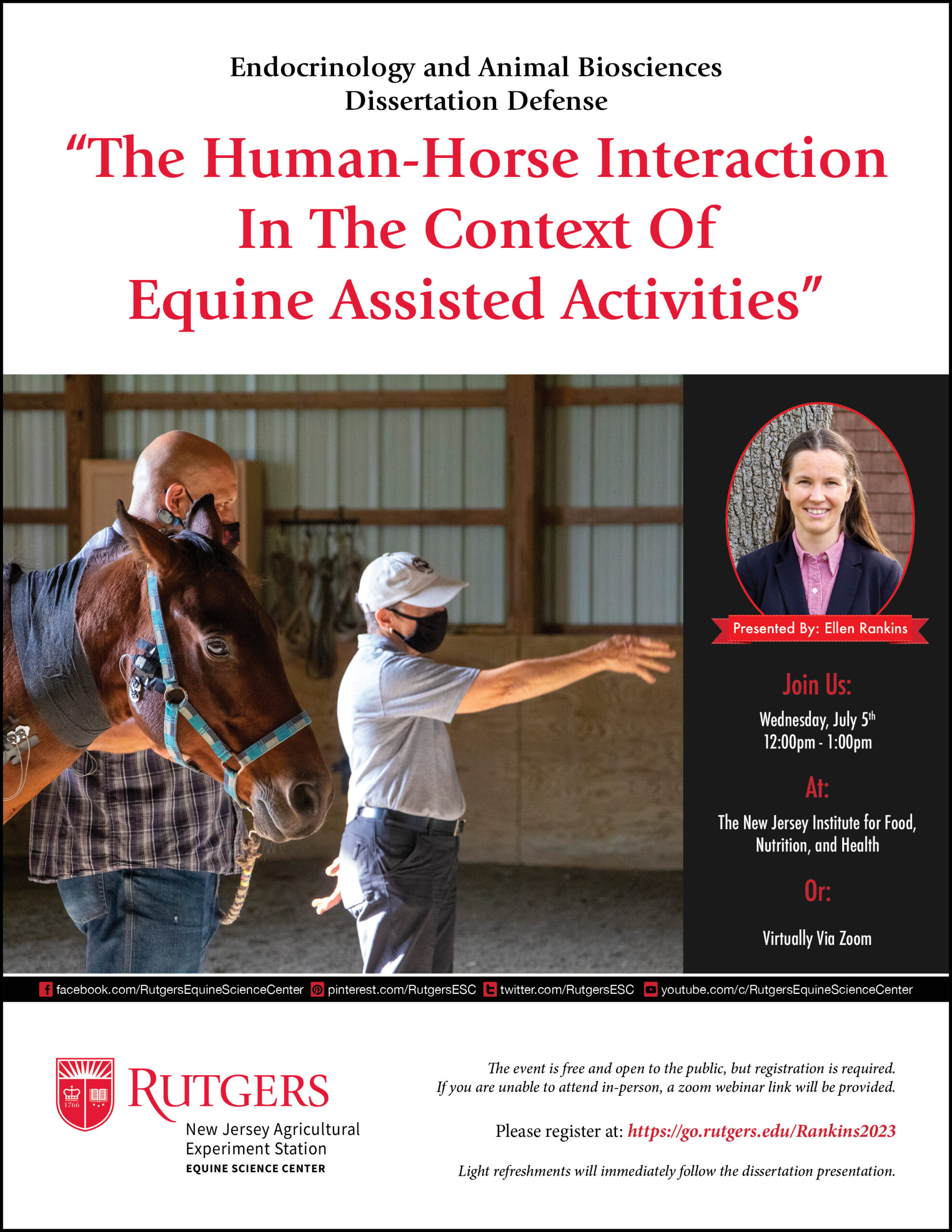 "There has been research into how animals are affected by being used for support, and research into how humans are affected by support-animals during things such as therapy;" said Dr. Karyn Malinowski, Founding Director of the Equine Science Center, and Co-Chair for Ms. Rankins' doctoral committee; "but up until Ms. Rankins' research we have very little research that has occurred looking at how EAA sessions affect both the horse and the human in partnership with one another. By taking measurements and samples simultaneously during these sessions, Ms. Rankins' aim is to shed light on what is happening in real time during a potential co-regulation period."
For both the in-person as well as Zoom option, the Equine Science Center asks that those interested register as soon as possible in order to facilitate what is needed for this hybrid event. Once registered, attendees will be provided a parking registration link (if attending in-person) or a Zoom Webinar link (if attending virtually).
To register, please go to: https://go.rutgers.edu/Rankins2023
For additional information, contact Kyle Hartmann at kylehart@njaes.rutgers.edu or 848-932-9419.