MEIR RINDE | MAY 13, 2015
Horse racing, the gaming industry, and the fate of Atlantic City are all linked by a complex calculus of money and politics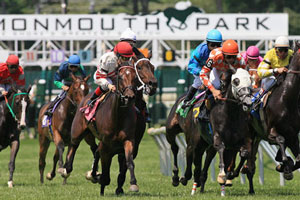 The on-again, off-again efforts to legalize casino gambling in northern New Jersey and to allow sports betting statewide could not only affect Atlantic City's tottering economy but also determine whether the struggling horse racing industry and related farming businesses stage a comeback or continue their long decline.
The outcome of the discussion of gambling's future in the state depends on complex legislative negotiations over how to help Atlantic City's municipal government stabilize its shaky finances and how to use the expected windfall from new North Jersey casinos in that effort.
But the debate is also the latest chapter in a decades-long tug-of-war between horse racing tracks, which were once among the few legal wagering venues in the state, and the gaming industry that largely supplanted them after Atlantic City casinos were legalized in 1976.
For a number of years in the early 2000s the two industries achieved a rough détente. While the big gaming companies opposed allowing tracks to install slot machines or video lottery terminals to boost revenue, under state legislation the casinos contributed to the purse money awarded to winning horse owners. That helped the tracks attract top horses and the fans who gambled on them.
"There was a period of time where a small amount of money moved from the casinos for purse supplements, and that was hopeful. It wasn't driving large crowds into racetracks, but it was allowing for the racetracks to pay out purses that allowed our horsemen to stay in business," said Assemblyman John Burzichelli (D-Gloucester), who sponsored legislation to extend the purse supplements and to allow sports betting.
But in 2012 Gov. Chris Christie blocked an effort to renew the supplements, tightening the noose on the tracks. The impact on the industry has been stark, as seen most recently in the closure in January of the Atlantic City Race Course. Last year, Perretti Farms in Upper Freehold, once the state's largest standardbred horse breeding facility, shut down following the death of owner William Perretti.
The three remaining tracks are Meadowlands, Freehold, and Monmouth, all of which were reportedly losing money as recently as 2012. The track operators, particularly Monmouth's, are hoping that gambling will now finally be expanded in ways that benefit them before the industry's decline claims another casualty.
Monmouth is banking that the state will win a federal court battle that would let the facility offer sports betting and attract more of the type of customers who enjoy wagering on horses. The Meadowlands and Freehold have been more cautious about sports betting, but the Meadowlands operator wants to build a full casino that, in addition to supporting racing, would keep more gamblers in New Jersey and pay perhaps $400 million a year in state taxes that could go toward aid for Atlantic City, land preservation, and other needs.
"The expectation is that, in partnership with Hard Rock, we would build a magnificent facility that would bring back the local business that's being lost now to New York and Pennsylvania," said Jeff Gural, who took over as operator of the Meadowlands in 2012. "The majority of customers that used to go to Atlantic City are now patronizing Bethlehem and Yonkers and Aqueduct. The hope is that we would be able to keep that money in New Jersey."
Without those audiences and those dollars, racing will continue its shift to states like New York, Pennsylvania, and Delaware, where tracks are permitted to install lucrative slot machines, and the incentives for local horse breeding will remain weak, industry representatives say. More horse farms will close, more agricultural land will be paved over for development, and more workers will lose their jobs.
"The people are hanging on and they're hopeful for gaming, and a revitalization of both standardbred and thoroughbred racing in the state," said Leo McNamara, executive administrator at the Standardbred Breeders and Owners Association of New Jersey. "But you can only kid yourself so long. If it doesn't happen, people are going to pull the plug and go someplace else."
While the recession and changing entertainment trends have affected horse breeding and racing across the country, the industry in New Jersey has been hit particularly hard lately. The purses paid on thoroughbred races crashed from $47.5 million in 2010 down to $22.8 million in 2013, according to a report by Rutgers' Equine Science Center. At the same time wagering fell sharply from $481 million to $266 million.
Meanwhile, thoroughbred purses paid were basically flat in Pennsylvania over that period, amounting to $110 million in 2013, and steadily rose in New York to $175 million. New York's wagering held steady at about $2.3 billion and Pennsylvania's declined substantially to $557 million in 2013.
New Jersey also saw drops in the number of horses bred and the amount of breeder financial incentives, which in other states are supported by gaming revenues. Nineteen preserved horse farms were sold between 2010 and 2014, and the Rutgers report found last year that another 12 — amounting to more than 1,000 acres — were on the market (mostly the former Perretti Farms land).
"Once something gets paved and they build an apartment complex or housing or a strip mall, it never gets turned back into a farm. Never," McNamara said. "So this preservation of green spaces and farms should be of interest to everybody in New Jersey, not just the farmers."
"We're an expensive state to live in and operate in. It's very difficult for guys to grow corn and soybeans, be dirt farmers in the state," he said. "We need to keep that climate for farming. Any kind of farming — dairy, beef, horses, corn."
A quick way to bring new funding into the industry, as well as to Atlantic City, would be to add sports betting. It would bring in some revenue directly, but more importantly would attract people to wager on horses, play slots and card games, eat at restaurants, and patronize other attractions at tracks and casinos, particularly in the casino off-season, said Israel Posner, executive director of the Lloyd D. Levenson Institute of Gaming, Hospitality and Tourism at Stockton University.
A successful 2011 state referendum and subsequent legislation attempted to bypass the federal ban on sports betting, but was blocked in court after the Justice Department and national sports league sued. Christie and the legislature parried by repealing New Jersey's law barring sports betting at casinos and tracks, but the leagues sued again and the federal court is considering the state's latest appeal.
The operator of the Monmouth Park Racetrack, Darby Development LLC, has poured several million into the business, adding video boards for simulcasted races, opening a miniature golf course, putting on family events, and building a sports betting facility in anticipation of legalization. The company started work on a new concert venue as well, but halted the project after a judge blocked sports betting in October.
As recently as November the track was reportedly losing money as it continued to wait for the promise of sports wagering to be realized, though more recently Darby has said it expects to start breaking even.
"I worry about it, because, how much money can you borrow and how much can you [invest]?" said Karyn Malinowski, director of Rutger's Equine Science Center and coauthor of the horse industries report. "Look at the investment they put into that sports bar area where they were going to have sports betting, and then that fell through. So I worry about Monmouth."
The Meadowlands Racetrack is faring better, thanks in part to a large simulcasting operation that allows visitors to bet on races happening all over North America, Gural said. But he wants to make much more of the site by building a casino whose revenues would dwarf the track's current take.
A referendum on a constitutional amendment that would allow two casinos in North Jersey has been discussed for some time, but it is not clear whether it will finally happen this year.
After opposing a gaming expansion on the grounds that it would hurt Atlantic City, state Senate President Stephen Sweeney (D-Gloucester) reversed his position last year. But this fall's ballot will lack any high-profile races, beyond the Assembly election, and the expected low turnout could hurt the referendum's chances, Sweeney said recently. As a result, the vote may be postponed. If the referendum were held this year and failed, the sponsors would have to wait two years before they could try again.
However, the real obstacle may be a rescue package for Atlantic City's municipal government, which has had to pay out close to $400 million in tax refunds to casinos and needs help to avoid bankruptcy. Sweeney has sponsored a package of bills that would restructure the casinos' local tax structure and redirect certain funds to the city government, but Christie has not signaled whether he will sign the legislation.
The discussion of turnout is "just noise," McNamara said. The referendum "will go this year, if Steve Sweeney gets what he wants for Atlantic City and whatever other balls they're juggling. The legislature's all about, you scratch my back, I'll scratch yours."