New Jersey Department Of Agriculture Celebrates Month Of The Horse:
Agriculture Secretary Highlights State Equine Industry

(TRENTON) – New Jersey Secretary of Agriculture Douglas H. Fisher and other state and local officials celebrated the Month of the Horse today with a visit to the Halkas in Monmouth County.
Governor Philip Murphy signed a proclamation declaring June 2021 the Month of the Horse in New Jersey. The horse also is the official animal of New Jersey as equine-related services add an estimated $3.2 billion annually to New Jersey's economy.
"New Jersey has long been known for its diverse equine industry which offers everything from pleasure riding to world-class horse shows and horse racing," Secretary Fisher said. "The Halkas provide an excellent example of how people can find ways to be active in this important segment of our state's agriculture industry. Equine related events occur throughout the year and are a significant contributor to the state's economy. We are thrilled to celebrate the Month of the Horse."
Chet and Bonnie Halka have long been involved in the New Jersey equine industry. Bonnie is skilled in dressage where she has competed for the last 13 years. Chet is accomplished in Combined Driver Competitions, which features a carriage being driven as it is being pulled by one or more horses. The Halkas are owners of Halka Nurseries, including a location on their farm in Millstone. Chet Halka is also on the Board of Trustees for the Horse Park of New Jersey and has served on the Millstone Township committee and Monmouth County Ag Development Board.
"To be able to participate in so many equestrian events over the years from Canada to Kentucky while representing New Jersey has been a true pleasure for Bonnie and myself," Chet Halka said. "It has afforded us the opportunity to meet other horse enthusiasts from all over the world who share the same passion as we do for these beautiful and wonderful animals."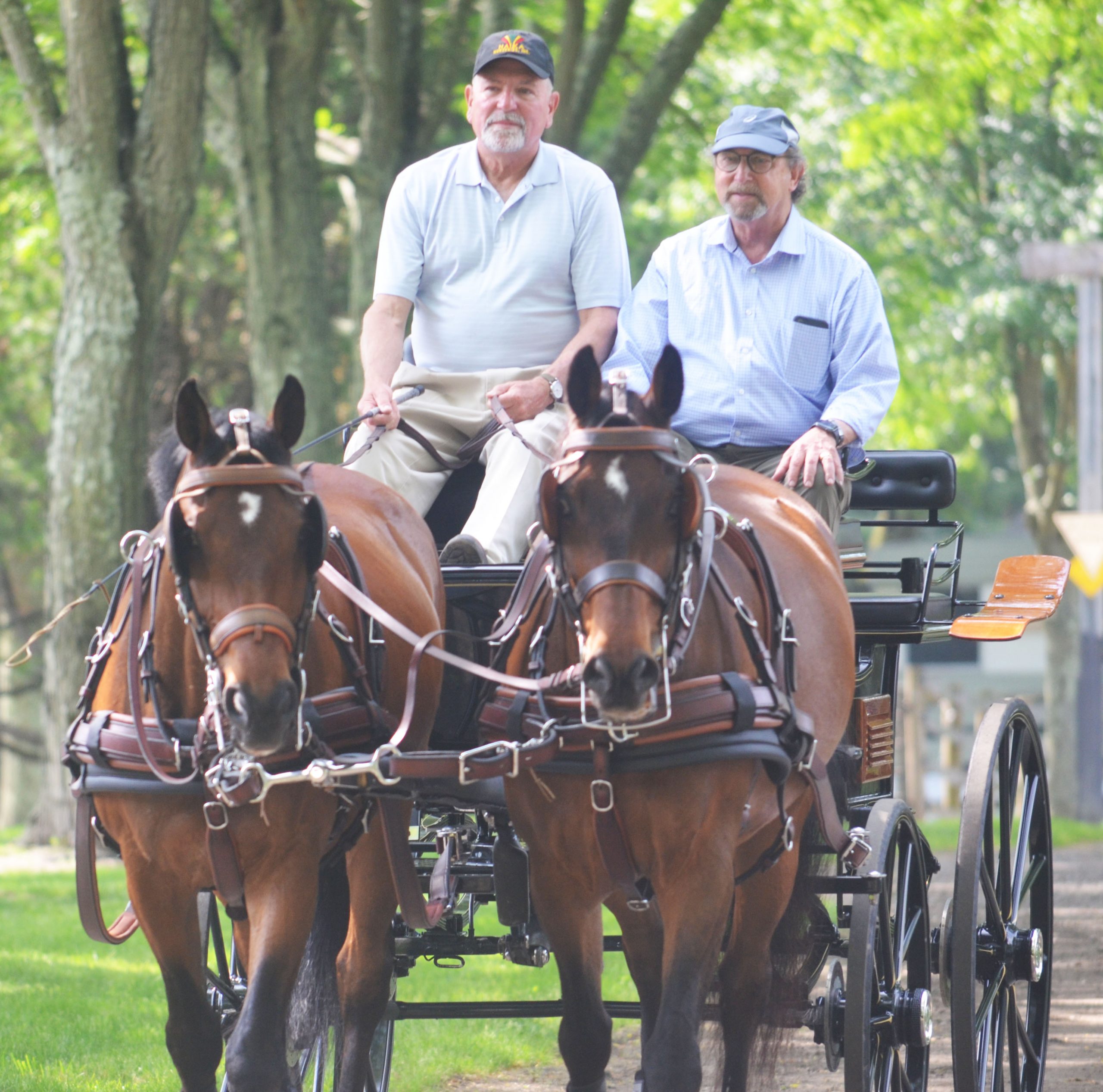 Chet Halka, pictured left, driving Secretary Fisher in one of the carriages Chet uses in the Combined Driving Competitions.
New Jersey has many top equine centers, facilities, and events. The Equine Science Center at Rutgers University, a valuable resource for everything equine in the Garden State, is dedicated to better horse care through research and education. The United States Equestrian Foundation headquartered in Gladstone funds programs that train and support top athletes and horses to compete at the Olympics, World Championships, Pan American Games, and other top international competitions. The Horse Park of New Jersey at Stone Tavern in Allentown is a world-class equestrian destination, attracting equine enthusiasts of every discipline. The Gloucester County Dream Park is a state-of-the-art equestrian complex created to provide opportunities for horse owners to participate in shows and competitions and for the public to experience horse events firsthand. Also, New Jersey's Meadowlands Racetrack, Monmouth Park and Freehold Raceway host horse races at various times throughout the year.
###
To learn more about the New Jersey Department of Agriculture, find us on Facebook at www.facebook.com/NJDeptofAgriculture and www.facebook.com/JerseyFreshOfficial or Twitter @NJDA and @JerseyFreshNJDA.