NEW BRUNSWICK, N.J. – As with many things in the past ten plus months, it was decided to move the Horse Management Seminar to a virtual format. The format will consist of three Monday evening webinars on February 1st, 8th, and 15th.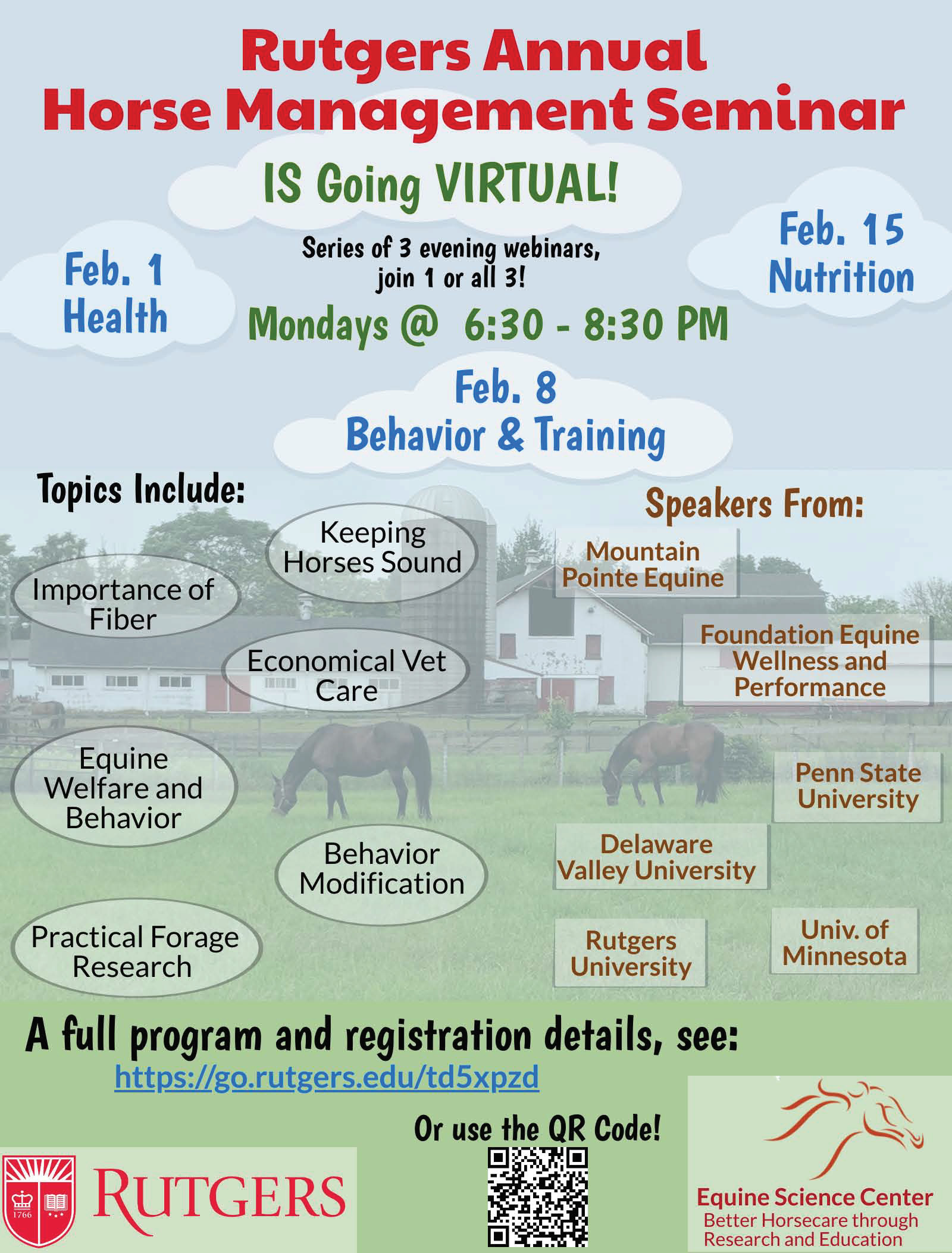 To register go to: https://go.rutgers.edu/td5xpzd
Each virtual webinar features two speakers that have been designated the "Best of the Best" over the years for their face-to-face presentations, and/or will cover topics most requested in previous post-program evaluations. Each evening will focus on one topic area and will end with an "Ask the Expert Live" panel hosted by Dr. Carey Williams, Associate Director of Outreach for the Rutgers Equine Science Center, as well as the evening's speakers. Attendees will have time to ask questions about the presentations and are also encouraged to bring questions to the webinars based upon the subject area for that night. The schedule includes:
February 1st – Equine Health
"Economical Veterinary Care" by Dr. Michael Fugaro, Mountain Pointe Equine
"Tips for Keeping your Horse Sound" by Dr. Lynsey Makkreel, Foundation Equine Wellness & Performance
February 8th – Equine Behavior & Training
"Evaluating Horse Welfare" by Dr. Sara Malone, and Ellen Rankins, Rutgers University
"Using Learning Theory to Train Horses" by Angelo Telatin, Delaware Valley University
February 15th – Equine Nutrition
"Fiber and its Importance in Horses" by Dr. Burt Staniar, Penn State University
"Forage/Pasture Practical Research you can use" by Dr. Krishona Martinson, University of Minnesota
The weekly webinars will run from 6:30 PM to 8:30 PM, and attendees can register for one specific webinar or for all three at the same time using the same link. The webinars are free to attend, however in order to facilitate a more engaged live audience with the speakers they will not be posted to the archived webinar section of the Center's website until mid-March.
For questions, please contact Dr. Carey Williams at carey.williams@rutgers.edu