New Brunswick, N.J. – The Rutgers Equine Science Center hosted its 2022 "Evening of Science & Celebration" on Thursday, November 3 in New Brunswick, NJ. Sponsored by Mid-Atlantic Equine Medical Center, this year honored Dr. Octavia Brown and Stoneleigh Farms with annual awards.
Dr. Brown received the 2023 "Spirit of the Horse" award for her stalwart support of the equine community, and her long-time commitment to the advancement of Equine Assisted Services nationwide.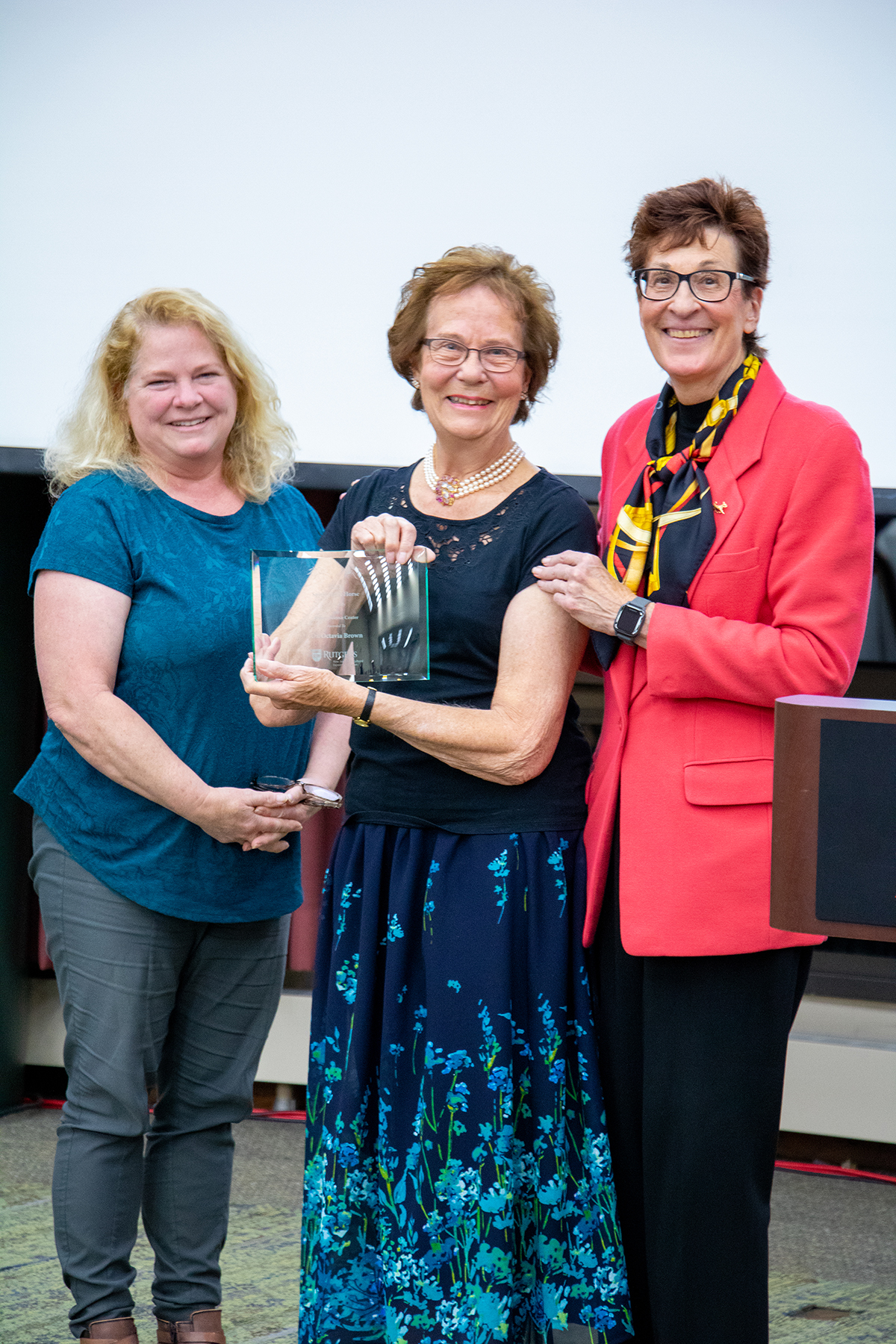 Rutgers University Board for Equine Advancement Co-Chair Beth Gates (left) and Rutgers Equine Science Center Founding Director Dr. Karyn Malinowski (right), present the 2023 "Spirit of the Horse" award to Dr. Octavia Brown (center).
Born in England, Octavia Brown emigrated to the USA in 1964. She earned her Master of Education from Harvard Graduate School of Education in 1971 and was awarded an honorary Doctorate of Humane Letters in 2008 by Centenary University. A founder of the North American Riding for the Handicapped Association (now PATH International) in 1969, she served four terms on the board of directors. She is a PATH Master Instructor.
In 1972 she founded the first equine assisted services program in New Jersey, now known as Mane Stream. Founder with Barbara Isaac in 1980 of Health And Recreation through Horses (HRH of NJ). Joining the faculty of Centenary University in 1997, she founded and directed Therapeutic Riding At Centenary (TRAC) as both a PATH Accredited EAS Center and training site for future TR instructors. She is now an Emeritus Professor of Equine Studies at Centenary and continues to mentor future TR instructors.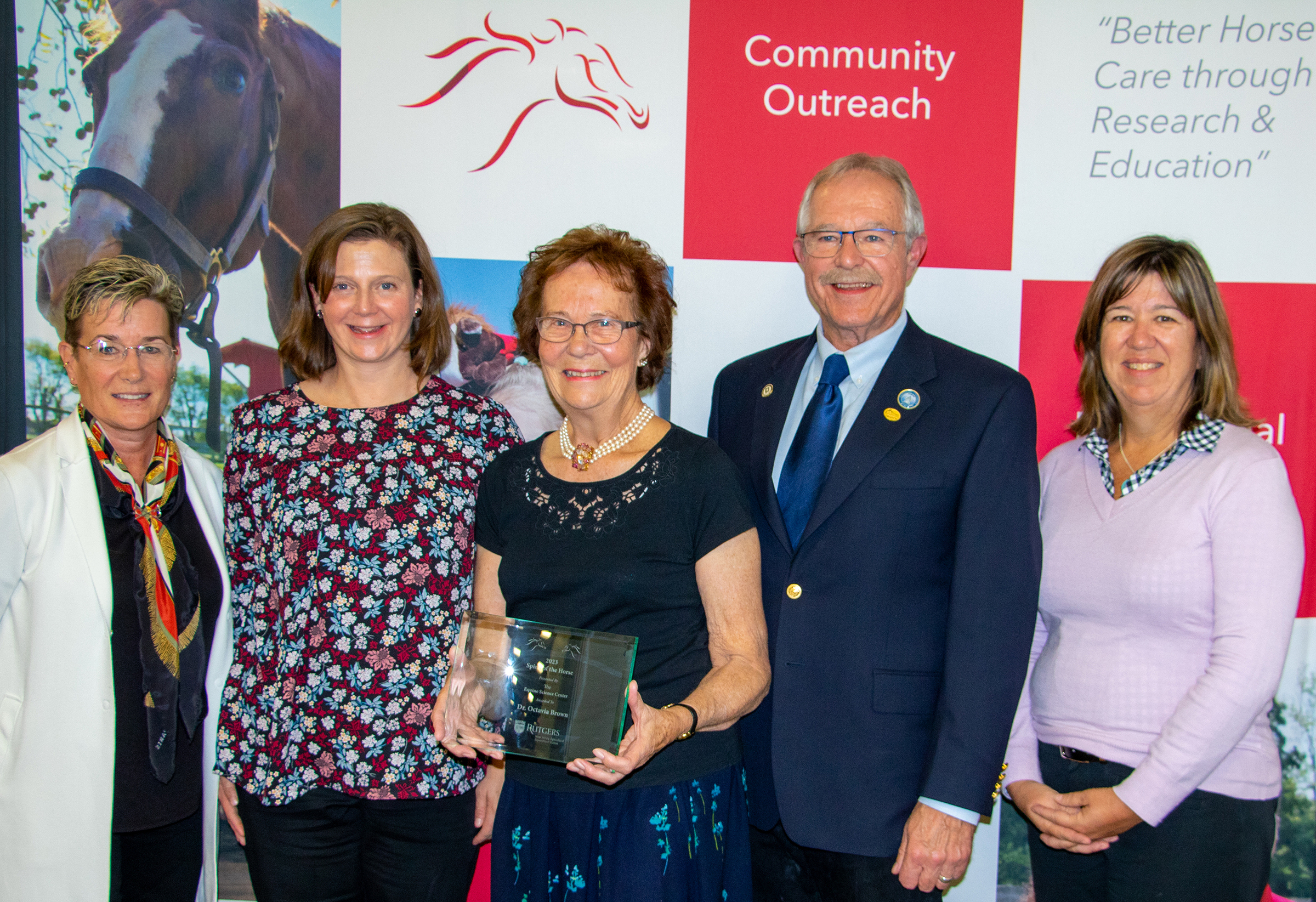 Dr. Octavia Brown is joined by staff and representatives from Centenary University, joining her to help celebrate the presentation of the 2023 "Spirit of the Horse" award. (Pictured from left to right: Dr. Lynn Taylor; Karen Brittle; Dr. Octavia Brown; MAJ George W. Paffendorf, USA (Ret.); and Dr. Kelly Munz.)
Dr. Brown is past president of the Federation Riding for the Disabled International, having served six years on the board of trustees. Honored in 1982 the NJ Horse Person of the Year by the New Jersey Equine Advisory Board. In 1998 she received PATH's James Brady Award for Lifetime Achievement in Therapeutic Riding. In 2022 she received the Humanitarian of the Year Award from the Equus Foundation, and the Golden Dome Award from Centenary University.
The 2022 winner of the "Gold Medal Horse Farm" award is Stoneleigh Stables of Branchburg, NJ, owned by Chrisie and Chris Van Cleef. The award, part of the New Jersey Equine Environmental Stewardship Program, gives recognition to outstanding equine farms for their dedication to environmental sustainability and management.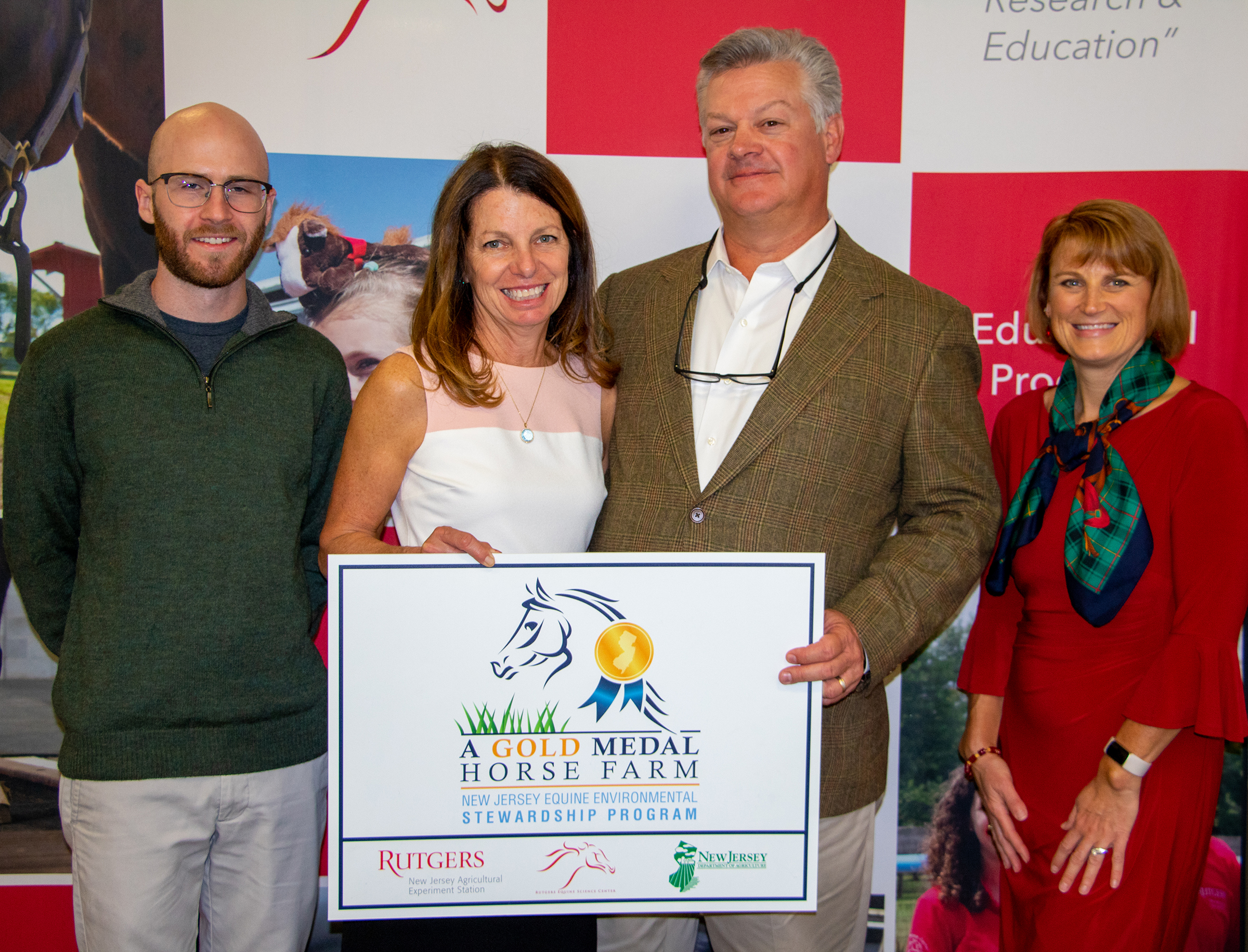 Chrisie and Chris Van Cleef, owners of Stoneleigh Stables, pose with the "Gold Medal Horse Farm" sign that is presented to award recipients to hang at their farms. (Pictured from left to right: Matt Samuels, Chrisie Van Cleef, Chris Van Cleef, and Dr. Carey Williams.)
Stoneleigh Stables is located on 23 acres in the heart of New Jersey horse country. It currently features an outdoor riding arena, multiple grazing paddocks with run-in sheds, and well-managed cool-season pastures. The property's restored two-story barn includes spacious horse stalls and a heated tack room and indoor wash stalls. As a lifelong horsewoman who continues to compete in some of the country's biggest hunter-jumper shows, Chrisie Van Cleef's emphasis has always been on maintaining top-quality care for her equine partners and creating a friendly yet professional atmosphere for training.