Hay Everyone!
I'm here to report on some exciting research that will be happening at the Equine Science Center. If you've been paying attention to our social media, you might be able to guess what it is… That's right. Our researchers will be studying the interaction between veterans and horses. If you recall, we briefly touched on this subject last November in honor of Veterans Day. Today we'll be taking a deeper dive into this exciting research project!
Previous research here at Rutgers and at other universities has shown that interacting with or riding horses can help people. These activities can increase a person's strength and balance, which helps them move around more easily. It can also help those with mental illnesses by decreasing symptoms and improving quality of life. (It seems my friends and I can be very important to people!) While these previous research studies have shown horses can be good for people, the interaction of what happens when a horse and human are together hasn't been studied. The research to be conducted here at the Equine Science Center will dive into what happens during these interactions!
For this research study to happen, we need veterans to volunteer for the study. If you know a male veteran who would like to participate, you should have them email the study coordinator at rutgerseaat@njaes.rutgers.edu.
So, once we have participants for the study, what will happen? The researchers will conduct pre-testing with the participants here on campus. Many research studies use a similar pre- and post-test design in which measurements are taken before and after an intervention to see if the intervention had any effects. In this case, the researchers will be measuring the severity of post-traumatic stress disorder or PTSD symptoms as well as physiological variables like hormone concentrations. PTSD is a common anxiety disorder. It is caused by a traumatic event. This could be something like a car accident or for veterans, combat during a deployment. In addition to using a pre- and post-test design, the study will have participants assigned to a horse interaction (equine assisted activities) or a wait-listed control group. The inclusion of a wait-listed control group, in which participants don't get to interact with horses until after the post-test, will allow the researchers to draw more definite conclusions from the study. If there are changes in PTSD symptoms and physiological variables when the pre- and post-test measurements are compared in the equine assisted activities group, we can conclude the interactions with a horse were successful in helping veterans overcome and deal with their PTSD.
While this will be important information to share, this is not the most exciting part of the research. The most exciting part will happen when the horses and veterans are together! The researchers will use special equipment to measure the horse's and veteran's heart rate, muscle activity, behavior, and hormone concentrations. By measuring everything on both the horse and veteran at the same time, the researchers will be able to analyze the data to see if co-regulation is happening. If you're like me, you need someone to explain what co-regulation is. Well, I asked the researchers and they told me co-regulation is what happens when two biological systems interact with one another and begin to synchronize. So, this happens when your heart rate goes up and then your horse's heart rate goes up. You can also see this concept in action when two people walk down the street in-step with one another. Data collected during the sessions will provide information about what happens when a horse and human interact.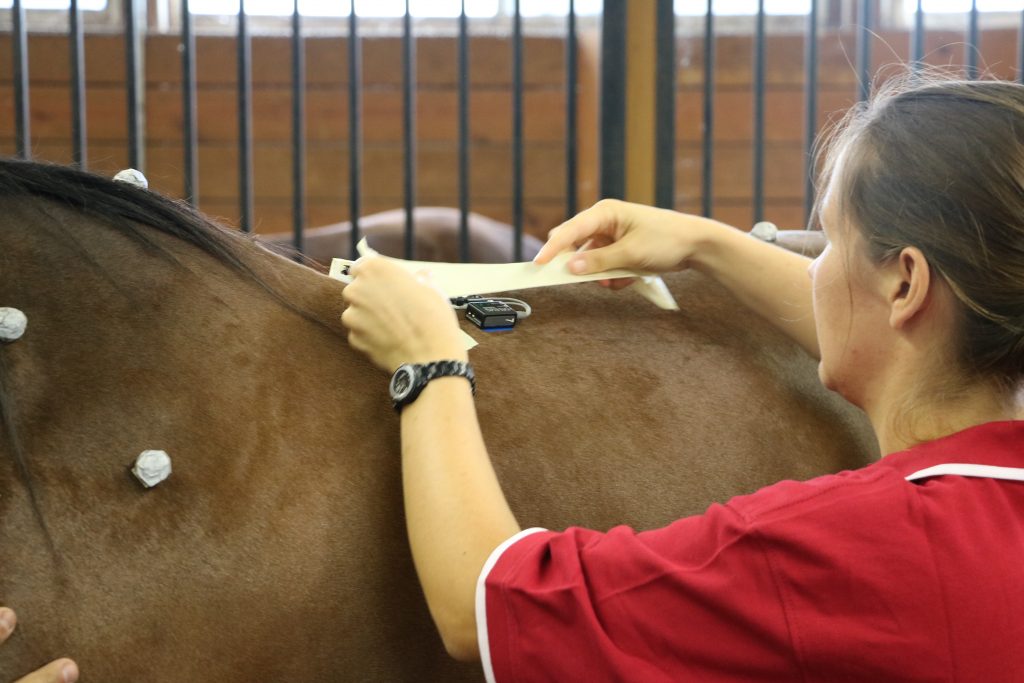 A surface electromyography (sEMG) unit used to measure muscle activity being attached to a horse.
I hope you enjoyed this glimpse into an upcoming research project! If you stay tuned, I might give you an update when the project is finished. To stay up to date on how the research is going you can check out the research project page.
Until next time.
Your Friend,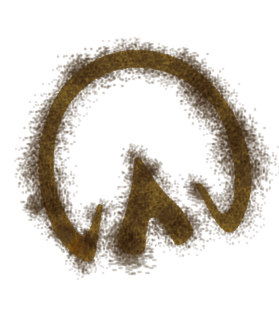 Lord Nelson