Hay Everyone!
Having students back on campus is so much fun! They bring energy and enthusiasm to all of us working here. This is just one of the reasons Fall is my favorite time of the year. I am also really excited this year because the Animal Science Department has welcomed several new faculty members to its ranks. One of these, Dr. Taylor Ross, will also be a member of the Equine Science Center because of her background in and passion for horses. I thought all of you might like to meet her, especially since you're likely to see her at future 4-H events.
Lord Nelson (LN): Can you talk some about your educational experience and how that prepared you for where you are today in your position here at Rutgers?
Dr. Ross (Dr. R): My first experiences weren't in formal education, but were just growing up in 4-H. As I got older, I started mentoring other kids and helping with 4-H clinics. Once I got done with horse bowl and hippology, I started coaching kids. In terms of formal education, I went to the University of Nebraska – Lincoln (UNL) for both my bachelor's and my master's in animal science. My B.S. in animal science is in biology which is one of the tracks UNL has within the major. I did a little bit of work with our student success center, called the hub, in the department, I was a teaching assistant (TA) for some classes, and stayed really involved with 4-H – helping with the 4-H horse show and still coaching for horse bowl back in my home county. I stayed at UNL for my masters in stress physiology, looking at fetal programming, heat, and stress in sheep. I asked if I could TA and my advisor said, "no". I was like, "but can I TA" and he was like, "okay, if you can get a paper or a class credit or something out of it". I was a coordinator for our anatomy and physiology lab. I also did my first pedagogy project with it and loved it. My advisor realized how passionate I was about teaching, so, he actually let me put it in my thesis.
I was planning that I was probably going to have to do something like that for my Ph.D. where I did normal animal science research and then on the side a teaching project. I got lucky, though. Dr. Dunlap at Texas A & M was looking for somebody to do just pedagogy work on animal science education. I jumped on it and ended up loving it. As a Ph.D. student, I did a lot of teaching both as a TA and as the developer and instructor for a teaching methods course for undergraduate TAs.
All of this prepared me for a job in teaching. I'm really excited to be doing a lot of teaching, to have freedom in choosing how I teach, and to teach lot of different topics here at Rutgers.
LN: We're excited to have you as part of our teaching staff! Where did you grow up? What experiences in childhood led you to where you are today?
Dr. R: I'm originally from Nebraska. In the Midwest, there's not a whole lot of people and I'm also an only child, so I grew up with a lot of animals. I've always loved animals and then I was able to get started in pony club and 4-H. I also did competitive trail riding where you ride 40 to 60 miles in a weekend. I was very involved in 4-H. I did almost everything we could do at my county shows and the state show. I also got really into the horse knowledge activities like horse bowl, (quiz bowl with all horse questions) judging, and hippology. I went to nationals in horse bowl and got to coach and take two other teams. I also branched out into chickens, rabbits, and meat goats. In all these areas, as soon as I ribboned out, I would help the kids behind me. 4-H really set me up for the teaching that I would be doing and am still doing.
LN: Do you have a favorite memory from your time in 4-H?
Dr. R: I went to nationals all five years I was eligible. Those were some really fun trips. In Nebraska, we go to Western nationals in Colorado instead of the Eastern nationals that 4-H'ers out here go to. Most of the time I was either on a team or there would be a team and me going in an individual event. All the 4-H'ers from Nebraska hung out together and I got to know other kids from across the state. A lot of those trips are probably my favorite memories. The one that really sticks out was my very last year when I did public speaking. The winner gets to give their speech in front of the whole awards banquet. That was really cool and exciting.
LN: In your mind, what is the biggest difference between Texas A&M and Rutgers that you've noticed?
Dr. R: It's probably the fact that Texas A&M and even the University of Nebraska are, in general, much bigger in agricultural animal production meaning more students come in with a lot more background knowledge. I've noticed the students here are so much more excited and want to learn all that information, since they don't have that experience. They come to Rutgers for that experience and are excited to be in class and learn all these new things. I think this is really exciting and I am looking forward to doing more hands-on classes at the farm like sheep and goat handling in the spring.
LN: In all your time in graduate school and 4-H you've probably gotten to travel quite a bit. What's your favorite place you've ever been to and why?
Dr. R: My favorite place overall was a trip I took in college. I traveled with the educational psychology department to South Africa for an educational fieldtrip. South Africa was absolutely amazing. We did get to go and do a couple animal things. We went through Pilanesberg National Park and did some other stuff like that involving animals. I kept a total of how many animals I saw! That's the coolest trip I've ever been on.
Dr. Ross petting one of the elephants during her trip to South Africa.
The best trip involving animals in a more direct manner was to the Grand Canyon. My mom, my best friend, and I rode mules down, stayed at a ranch at the bottom of the canyon, and then rode back up. That's definitely the best animal related trip I've taken. There's no better way to see the Grand Canyon than on the back of a mule.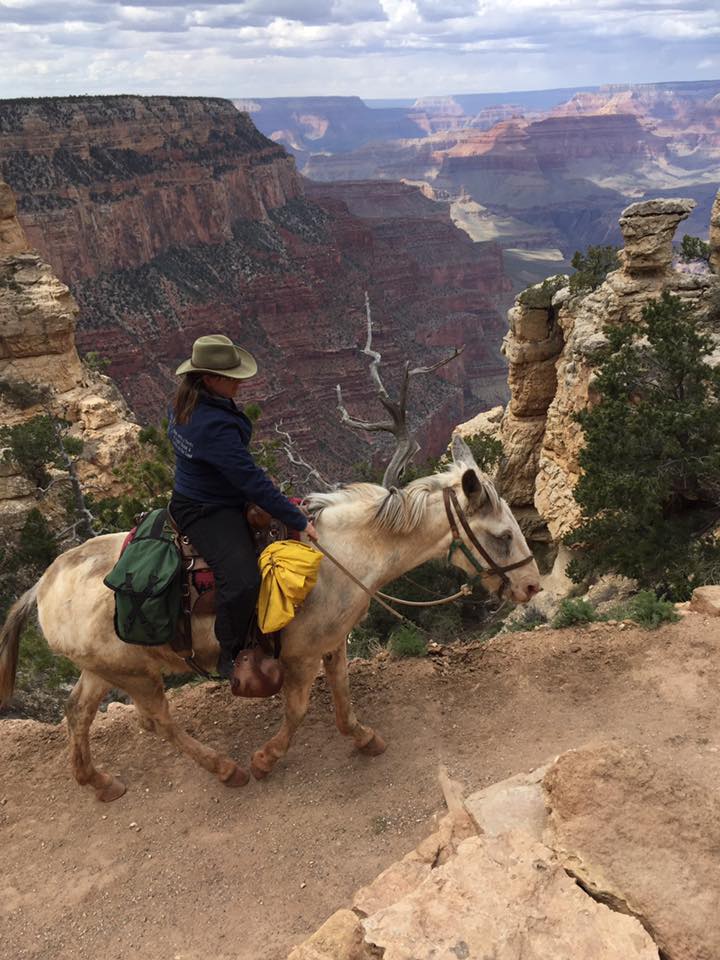 Exploring the Grand Canyon atop a mule. This is one of Dr. Ross' favorite trips.
LN: Those sound like amazing trips! After all this traveling, what brought you to Rutgers University?
Dr. R: It was the job. I was looking for a job and it's really hard nowadays to find a 100% teaching job, especially at a big school. I thought I would end up at a smaller school somewhere. To find a big R1 school with a 100% teaching job was really exciting. And my now husband graciously agreed to move to New Jersey as well. We're also excited to be back in a place that has seasons after four years in Texas! Then when I came up here and talked to the faculty and saw the farm and students, I knew I had made the right decision.
LN: You mentioned in your answer that Rutgers is an R1 institution. All our readers may not be familiar with this. Can you talk just a little bit about the types of institutions and what those mean?
Dr. R: Sure! I am not an expert by any means. All the states have at least one land grant university and some of these are R1 schools. This classification is based on the amount of research funding the university brings in and the amount of research conducted at the university. An R1 university is the top level, which I love being a part of. I knew I didn't want to be a principal investigator and just be in the lab. I wanted to do more teaching but being at a big school like this offers a lot of other things for our students to do and opportunities to build collaborations between research and teaching.
LN: Thanks for explaining! What are you most looking forward to or excited about in your new position here at Rutgers?
Dr. R: It seems like we're growing, and students are excited and faculty are excited too. I'm working on new partnerships, trying to come up with new opportunities for the students. I'm looking forward to, hopefully, bringing more 4- H events back. I hope to get kids from ag backgrounds excited about coming to Rutgers and get kids who aren't already in ag really interested in animal ag.
LN: I've heard that you are interested in getting involved with the farm store on campus. What might that involvement look like, why are you excited about it, and where are you hoping it will lead?
Dr. R: I always have a million ideas. I was learning more about the farm and I think it's really cool. At the moment, the store is mostly run by the farm staff. We see an opportunity to be able to get some students in there, especially ones that might be interested ag marketing and tourism. They might be willing to do some projects and work the store to alleviate the farm staff. But mostly it would give students opportunities to try new things, be involved with selling of ag products, and would be really cool. Hopefully, we can get some students in studies in animal science or make a new class or do something that involves helping grow the farm store!
LN: We know a little now about why you're passionate about teaching, but why are you passionate about horses?
Dr. R: It's mostly because of my mom. She loved horses from childhood, but only got to own them as an adult. My mom and I started getting into 4-H and trail riding. This led to me always being around them and I ended up loving them. There's this connection you can have with a horse and all the people that you meet through horse events. The people I met at horse events are definitely still my best friends. I was also something my mom and I could do together. The community with horse people is great!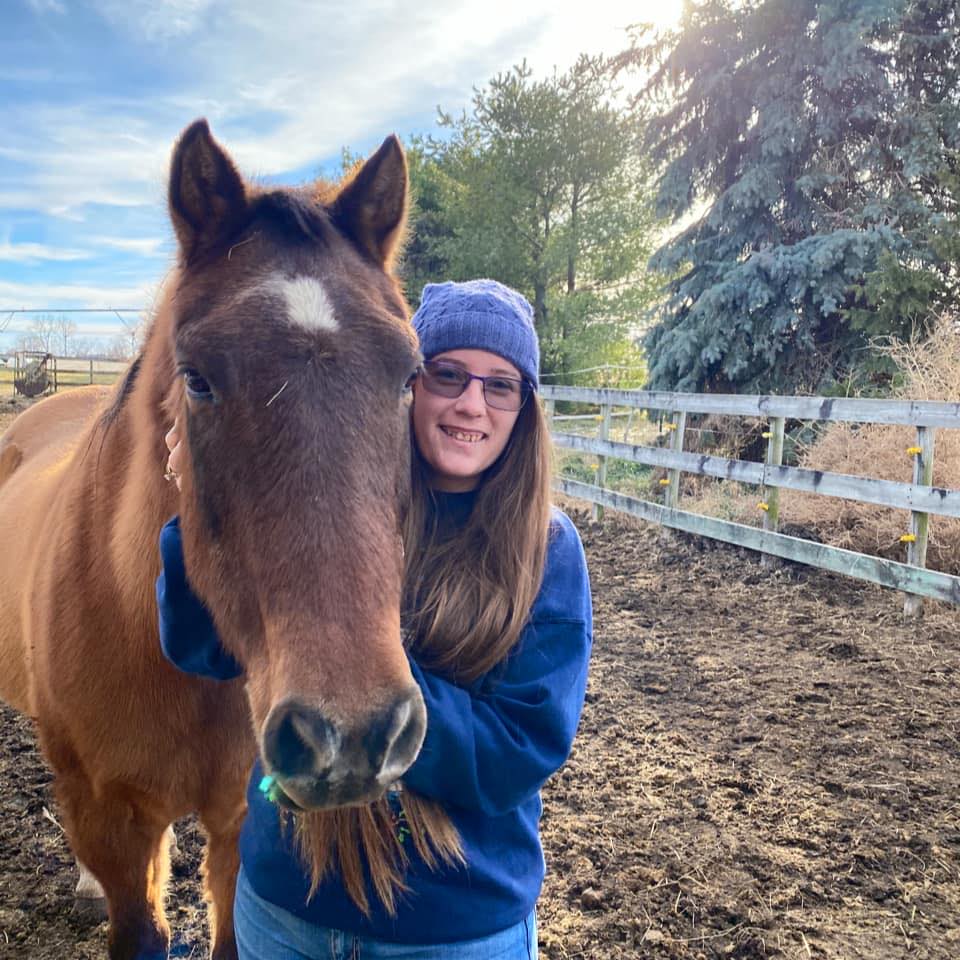 Dr. Ross with her four-legged friend!
LN: Do you have any horses here with you in New Jersey or other pets?
Dr. R: I do have other pets. I did not bring my horse because he and I don't really compete or do other things anymore as he's gotten older. As a grad student, board was much too expensive in Texas and same thing here in New Jersey even though I make a bit more money. He's just retired back at my parents' house. Hopefully, in the next few years my husband and I can get a place. I want to get him a nice husband horse and teach him how to ride.
In terms of other pets, we have our three cats with us. We are big animal people, so having only three cats feels like not enough. We've had rats and hedgehogs and a snake in the past. I've had other animals as well growing up.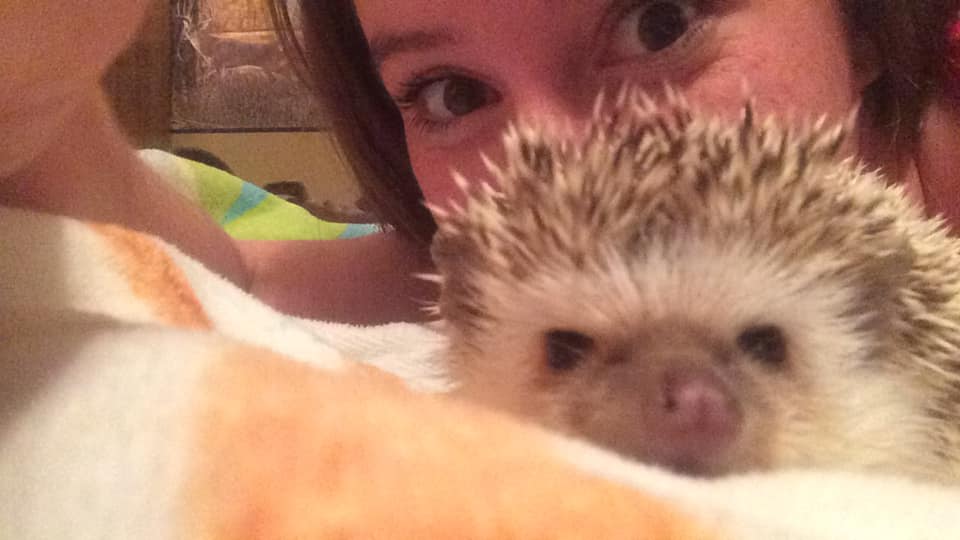 Dr. Ross with her hedgehog. He may not be furry, but he is cute!
LN: What are your favorite hobbies?
Dr. R: We like to go hiking and find new things. We are really making it a priority. There's a lot of things we always said we wanted to do in Texas, but we didn't do. So here we've already kayaked a couple times and found some new trails like Sourland Mountain Preserve. I'm also into pretty much anything musical. I love musicals and concerts. If you're ever in my office, there's always music playing. And then there's a lot of watching movies with my cats!
LN: Since you watch movies, I have to ask. What's your favorite horse movie?
Dr. R: This sounds bad. I actually had to think about it. Watching horse movies can be hard for me because all I do is judge the accuracy. The only one I own because I watched it a lot growing up is Running Free. I haven't watched in in years, but I remember how much I liked it. Then there are the classics like Spirit, which I like. Growing up I watched my mom's favorite movies like The Man From Snowy River.
LN: Thanks for taking the time to visit with me! It has been fun getting to know you!
Dr. R: I also enjoyed our chat!
I am so excited to welcome Dr. Ross to campus! I can't wait to see what the students think of her. I imagine they'll love her because she brings so much energy and enthusiasm to her teaching. If you happen to see her around campus, at an ESC event, or at a 4-H event make sure you stop to say "hello".
Until Next Time.
Your Friend,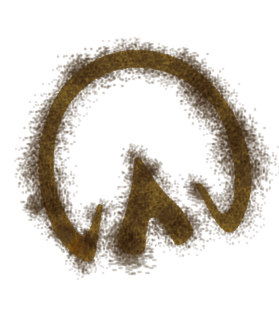 Lord Nelson