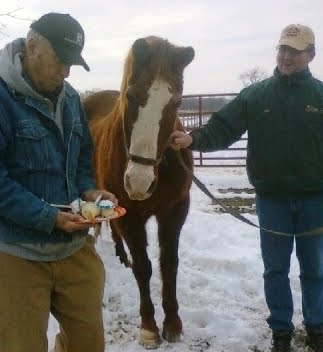 Hi Friends,
Welcome to 2011! I certainly hope that the recent weather event (the blizzard!) that ended 2010 isn't a prediction of what's yet to come. I'll have more on that a little later – just keep reading!
New Year's Day is always special for horses in the Northern Hemisphere – it marks our birthday! As you can see from my picture, I celebrated enough for all of my fellow equine friends. I actually cheated and celebrated my birthday a day early (December 31) so that I could share my "affection for confections" with my owner, who brought me cupcakes with candles, and one of my caretakers, Josh, whose birthday is New Year's Eve. You may not be able to tell from the picture that I could not contain my excitement when I saw that plateful of cupcakes. Josh said that I was trembling in an effort to reach out and grab one of those treats!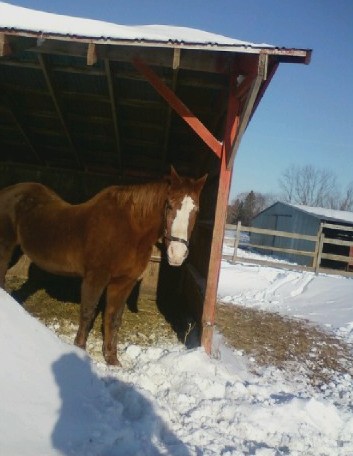 Anyway, the racing industry designated January 1 as the universal birthday for all race horses some time ago. The reason for doing so was to simplify record keeping when classifying horses for different races based on age. Many sport competition, recreation, and pleasure horse breed registries followed suit. It also makes sense to have a universal birthday for horses when the actual date of birth is unknown – like in my case. I just turned 38! My friends at the Rutgers Equine Science Center will have to update my bio to reflect my true age, AHEM!
I also have to share the fact that after the blizzard on December 26, I was so cozy in my turnout shed with my gal pal Hugme Christi, that I refused to come out. I demanded that I be fed, most certainly, but my caretakers were concerned that I would not walk over to my automatic waterer and drink. One might think that it is only important to worry about horses drinking in hot weather, but it is equally as important that horses drink plenty of water in cold weather as well. My friend Josh made sure that a path was cleared from my shed to the waterer. Since my waterer is heated, I am being very careful to drink often in order to stay hydrated. As soon as this snow melts, I'll be off for a good gallop for sure!
To make sure that you all take proper care of us in the winter months, the Equine Science Center will be posting a new Fact Sheet outlining our care during the winter months. Be sure to check it out!
Don't forget, if you like what you read on my blog, post a comment below! I hope to hear from you soon!
Stay warm!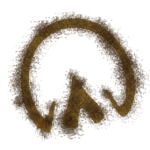 Lord Nelson