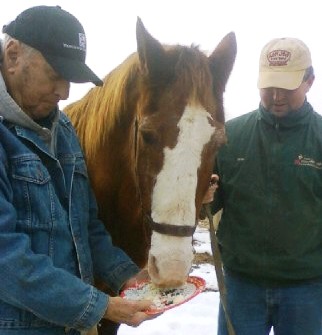 Happy (belated) Birthday to all of my equine pals!
January 1st is the birthday for all race horses and many non-racing breeds of horses as well in the northern hemisphere! (For the race horses "down-under", it's August 1st!) Our birthdays are celebrated all over the world! Our two-legged friends even throw lavish parties and raise glasses of champagne at midnight just for us! However, the decorations are always spelled wrong. I tell my owner all the time, it's "Happy Birthday", not "Happy New Year's"!
Anyway, regardless of a horse's actual foaling date, it is considered to be a year older on January 1st. Even if a horse is foaled on December 28th, it would be considered a year-old within 3 days. As a result of this system, breeders will often try to have foaling dates in early January in order to have a competitive advantage. This way, when January 1st rolls around, the horse will be as close to a "true" yearling as possible in terms of physical maturity. This system helps keep things simple when grouping horses together by age for races and competitions.
For MY birthday, my owner brought me a very special treat: CUPCAKES! Mmmm…I love my sweets. Well friends, I'm off to plop down and take a cat nap…all this celebrating can sure make a guy tired! At my age, I am entitled to it. After all, I just turned 42!
Your Pal,