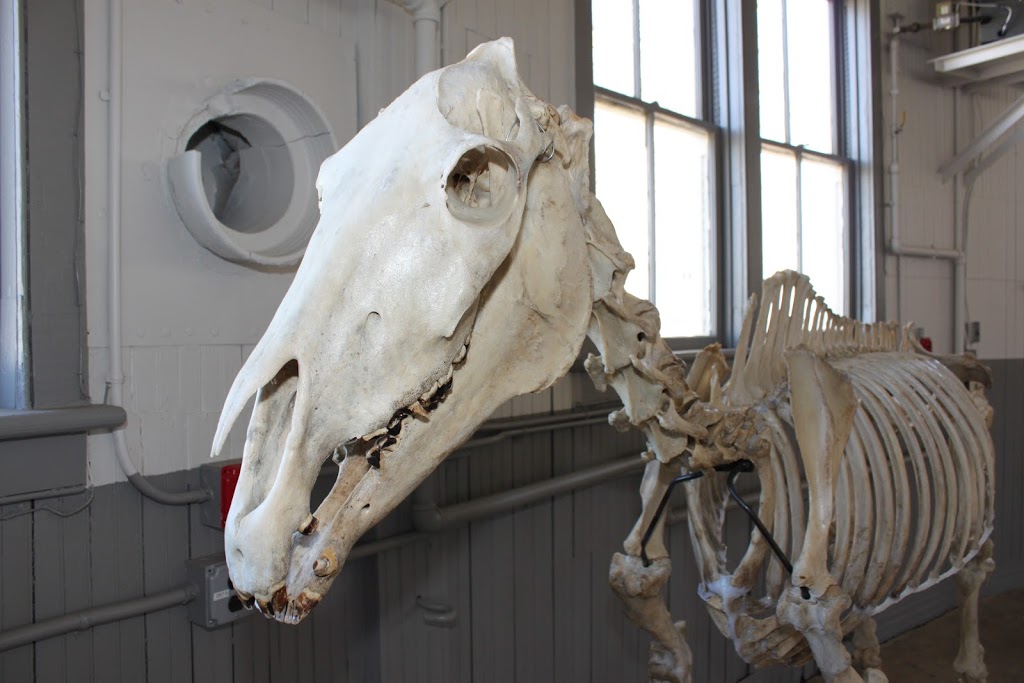 Hello everyone!
With spring in the air, I've been hard at work shedding my fur-coat in anticipation for the warmer weather. My owner affectionately refers to this joyous time as "Shedgate", "Shedmageddon", and "Tshedami" among other satires.
So I wanted to let you all know that I met another equine friend the other day that doesn't shed at all! He was tall, white, a little frail looking, and rather quiet…in fact, I would say he was even a little "stiff"! Ok, ok, enough with the jokes. Last week, the Equine Science Center welcomed the newest member to its research herd, and trust me when I tell you, he certainly stands out! The newest addition is stabled in the Round House right now, mounted to a wooden based with full support…did I mention he's a skeleton?!
That's right; the Rutgers Equine Science Center now has a fully-restored equine skeleton as a part of the equine research facility. Here's what I learned about him so far: he is comprised of 205 bones (80 of which are located in the legs), he was the ripe old age of 33 when he passed, and he's missing his front incisors! Fortunately, your old buddy Nelson still has his teeth intact, and I'm not planning on becoming a skeleton anytime soon – especially because of how much food I eat! My friends at the Equine Science Center will be holding a naming contest for my new boney buddy…check the Center's Facebook page for updates and details!
And, be sure to stop by the Red Barn during Ag Field Day at Rutgers Day to see this now nameless horse live (not really!) and in person!