Hay friends!! I have some microchipping news for you!
Microchips are about the size of a grain of rice and hold electronic data that enables identification of a horse. RU aware of the new microchipping rules from the USEF or USHJA? At the start of the 2018 show season (December 1, 2017), ALL horses competing in USEF-licensed and/or USHJA-sanctioned competitions with Hunter, Hunter Breeding, Jumper and Hunter/Jumping Seat Equitation classes not restricted by breed were required to be microchipped to receive points. Also, during 2017, the Jockey Club made it a requirement for foals to be microchipped in order to be registered in the American Stud Book. 
For the 2019 show season, starting this December (12/1/18), the USEF and USHJA stated that ALL horses competing in Hunter, Hunter Breeding, Jumper, and Hunter/Jumping Seat Equitation classes will be required to be microchipped in order to compete. These new rules are being used to transition the equine community to a universal method of identification, record keeping, and disease trace back.
My very smart pals at the American Association of Equine Practitioners (AAEP) determined the microchip implantation process is a veterinary procedure. A process that usually takes less than 15 minutes, your veterinarian will start by ensuring your horse is not already previously microchipped. Once confirmed, he or she will prepare the site sterilely (meaning it is so clean that the vet could perform surgery without worrying about infection)! Then he or she will use an approved 15-digit microchip and insert it under the skin in the nuchal ligament, halfway between the poll and the withers, on the left side of the horse. Once the procedure is completed and the chip is implanted, your vet will verify that the microchip is still readable with the microchip scanner. The cost is dependent on the veterinarian, farm call, and potential use of a sedative, but will typically range from $20-100.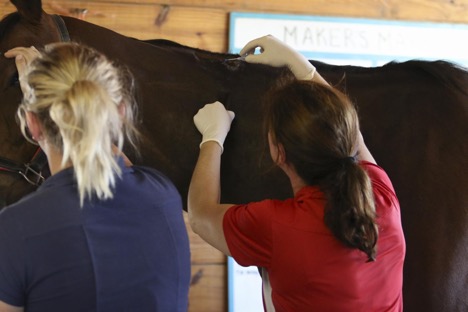 A veterinarian inserting the microchip under the skin in the nuchal ligament (photo credit: USEF).
Once implanted, any person with a microchip scanner can scan the horse's neck and retrieve the number. The number is tied to the clinic that inserted it, and the information that the owner may provide to the USEF. Professionals hope that in the future the registries will allow you to store your horse's vaccination history or other useful medical information (such as allergies, or chronic illnesses). 
For more information about microchipping, check out this detailed webinar from the American Horse Council. 
Until next time,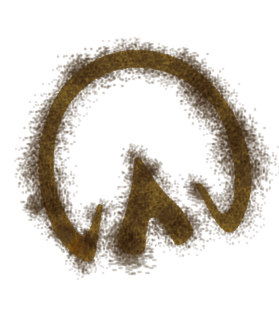 Lord Nelson