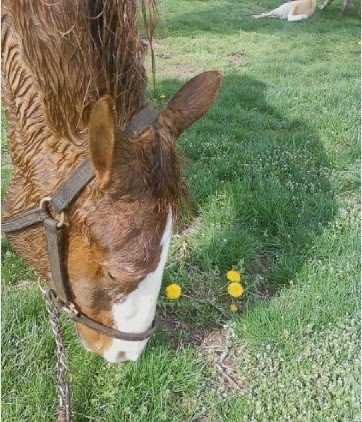 You've heard the phrase "April showers bring May flowers", but rain also brings lush green pastures that horses love! And now is the time for a delicious salad made from dandelions. As the spring season goes on, it makes me happy to see new sprouts of grass grow out of the dirt that dominated the pasture in the winter months. Don't get me wrong; I love hay, but there's nothing like grabbing a huge mouthful of fresh grass from the ground as the sun shines down and a warm breeze makes my tail float in the wind…it's almost enough to make me forget that the rider on my back is trying to get my head up!
Grasses are the foundation of horse pastures. There are many different species of grasses, but only some are adapted to New Jersey's growing conditions. They are called "cool-season" grasses because most of their growth occurs in early spring and late fall, when temperatures are cool. Some common species of cool-season grasses are Kentucky bluegrass, perennial ryegrass, smooth bromegrass, and orchardgrass. The most common grass found in pasture seeding mixtures contains Kentucky bluegrass; it can survive frequent grazing, which is important when you have a horse with my appetite in the field!
Another plant species that commonly grows in pastures are called legumes, which include alfalfa and clover. Legumes provide a good source of protein and calcium. Usually, the amount of clover in pasture seed mixes is low; the most popularly used is white clover because it is hardy and grows quickly. Red clover is also commonly used but most horse owners avoid it because it can cause the slobbers. "Slobbers" or excessive drooling is caused by a fungus found on all clovers but especially red clover. So next time you see a horse with saliva dripping out of its mouth it's not because they're anxious to eat the treat you've brought them or just woke up from a nap, they've just been enjoying the red clover in their pasture!
Even though grass is my favorite food, you all know about my affection for confections! Speaking of which, Ag Field Day at Rutgers Day is right around the corner on Saturday, April 30th, and to help celebrate the tenth anniversary of the Rutgers Equine Science Center, there will be celebratory cupcakes and beanie babies made in my honor! So stop by to grab a Lord Nelson beanie baby, have a cupcake, watch a treadmill demonstration, and get a temporary tattoo with the face of yours truly! For more information on our Rutgers Day activities, visit esc.rutgers.edu!